This post contains affiliate links including Amazon affiliate links.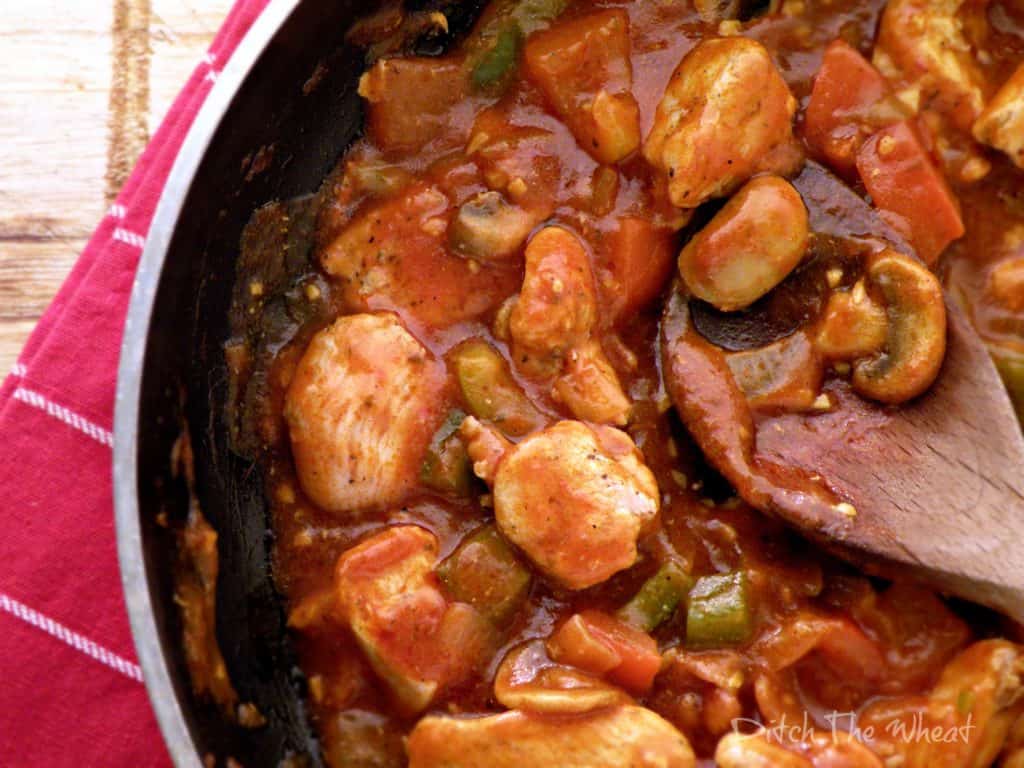 Sometimes you make a dish that everyone around you goes, huh?
Presenting Pizza Guts!  I see you ogling, and gazing and MmmmMMMmm over this dish.  Or you'll be like my mom, "huh?" "That sounds disgusting, please don't name a dinner guts…"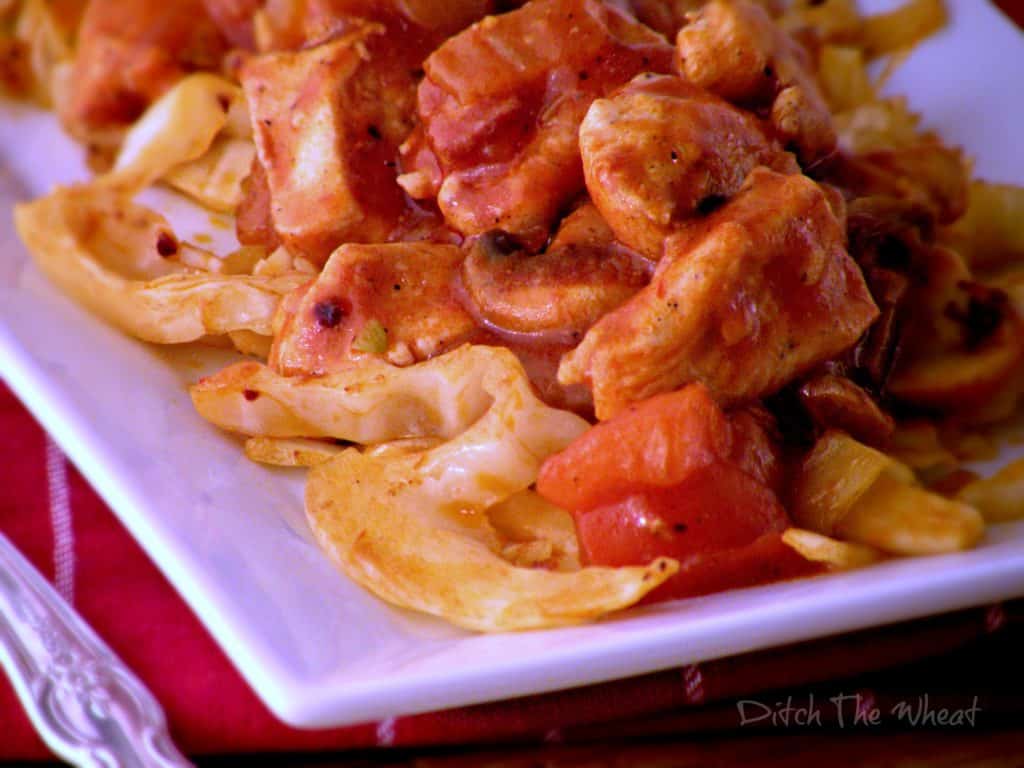 The story unfolds like this.  You can blame my father.  He told my mother he wanted chicken, tomato sauce, veggies and pasta noodles for supper.  I thought, that sounds good.  I'm going to make myself the same thing, minus the pasta.
I cook very much like my father.  I throw things together and hope for the best.  Ohhh this dish turned out great!  I started with diced bacon.  Most excellent decision!  I sautéed it with chopped onions, assorted peppers, mushrooms, garlic and chicken with a generous dash of salt & pepper.  Right off the bat I was going for a pizza taste.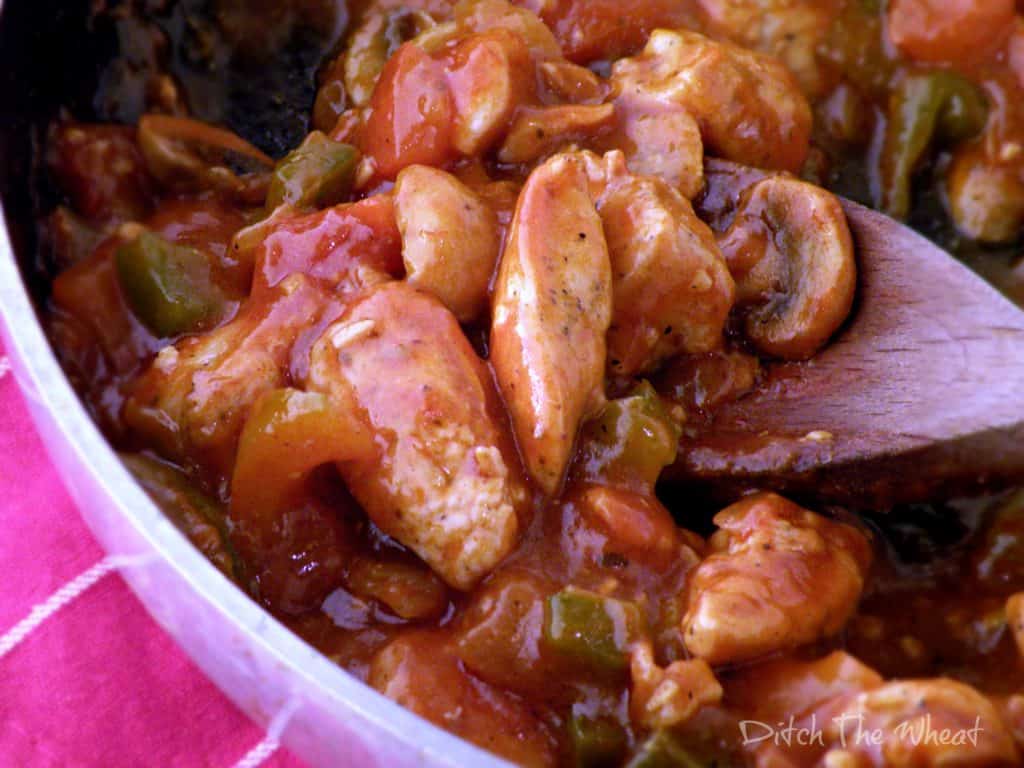 Then I opened a can of tomato sauce and poured enough into the pan to cover everything.  At this point I was taste testing some of it.  It was good!  It was so good I decided this was a blog post recipe.  Out of the blue, I thought, "I need "noodles" for this recipe."  I didn't have zucchini but I had A LOT of cabbage…  I ran to the other fridge, grabbed the leftover cabbage from my raw sauerkraut experiment.  I sliced thick noodles from it.  Took the "pizza" sauce out of the pan and threw the cabbage into the pan drippings.  Oh my!
That was a good idea!  I assembled it with the cabbage noodles on the bottom and the pizza sauce poured over it.  I stood looking at my creation and named it, Pizza Guts!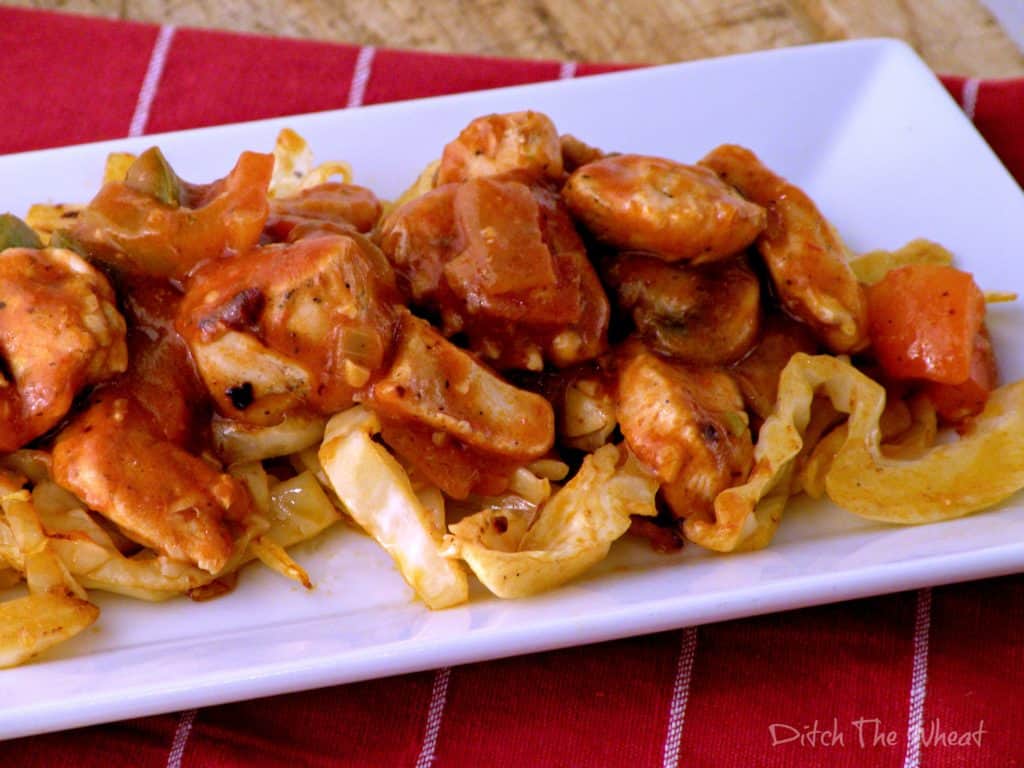 PIZZA GUTS
Ingredients
1 boneless, skinless chicken breast, diced
1 slice of bacon, diced
As much as you want of:
Onion, diced
Assorted Peppers, diced (I used red & green peppers)
Mushrooms, sliced
1 clove of garlic, finely chopped
*Any other favoured pizza toppings
about 1 cup of tomato sauce, enough to cover everything (I used canned sauce)
About 1 cup of sliced cabbage per serving, raw
Instructions
Pour some of your preferred fat (I used olive oil) into a pan and saute the chicken breast, bacon,
onion, assorted Peppers, mushrooms and garlic. Sprinkle generous amounts of salt and pepper over all of it.
Continue cooking until the chicken is no longer pink.
Pour the tomato sauce over the chicken and veggies. Stir and cook until heated through. Pour into a bowl.
Put the sliced cabbage in the pan. Saute until the cabbage is slightly translucent. Taste for preferred "crunchiness".
Serve the Pizza Sauce over the cabbage noodles.
Enjoy,
DISCLOSURE: Not intended for the treatment or prevention of disease, nor as a substitute for medical treatment, nor as an alternative to medical advice. Use of recommendations is at the choice and risk of the reader. Ditch the Wheat is a participant in the Amazon Services LLC Associates Program. As an Amazon Associate I earn from qualifying purchases. I may receive monetary compensation or other types of remuneration for my endorsement, recommendation, testimonial and/or link to any products or services from this blog. I only endorse products that believe in.