Welcome to Ditch the Wheat! Before you view the recipe I need to make sure you are aware of this. I hear it all the time... You're asking me to give up bread... Even my type 2 diabetic neighbour refuses to give up bread... There's so many reasons to ditch the bread: - gluten - GMO wheat - simple carbs (that cause weight gain) BUT it's so comforting to bite into a soft piece of bread smeared with butter. What if I told you there's bread you can eat that is Paleo and Keto friendly.
--> CLICK HERE <--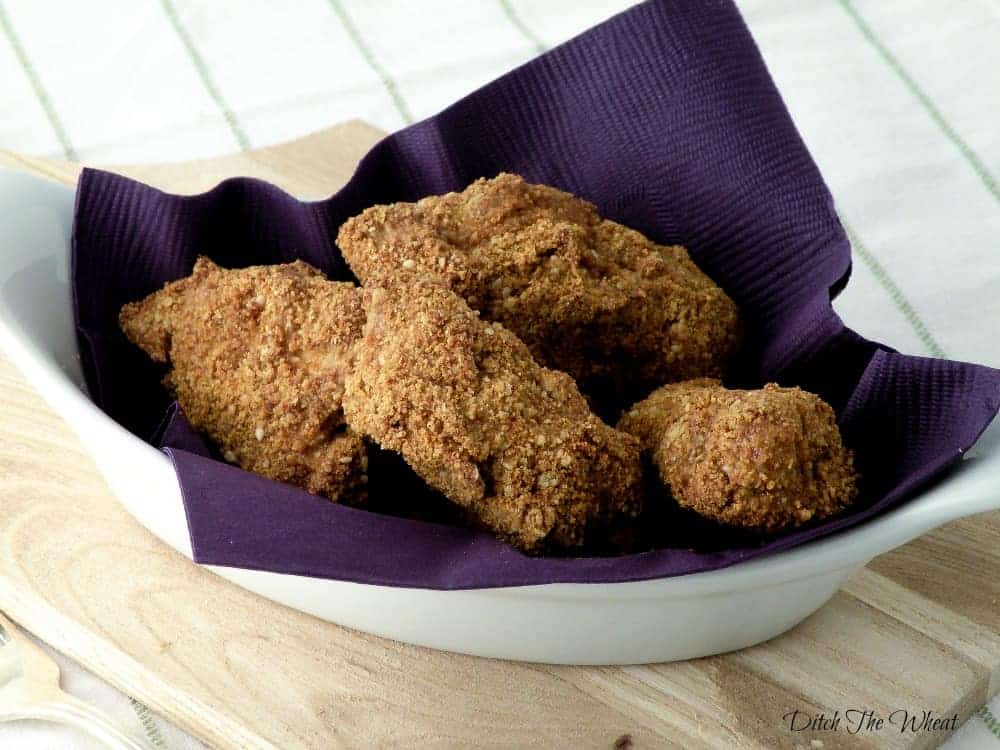 I experimented with nut free crusts before when I made Chicken Fries.  This recipe is using the same idea but for nut free chicken nuggets.  Sesame seeds are a great alternative to almond flour for a coating on chicken.  They are cheap and grind up easily in a coffee grinder.  They do have a slight funny taste to them on their own.  I suggest always adding spice to them in a savory application.  If you don't need a nut free alternative then go ahead and swap the sesame flour for almond flour/meal.
Ingredients
PSssTTTT ~ I also want you to know about the KETO Bread Cookbook. You can eat bread that is Paleo and Keto friendly.
--> CLICK HERE <--
1 uncooked chicken breast, cut into nugget sized pieces
1 cup of sesame seeds, ground to a fine flour (use a coffee grinder)
½ tsp – ½ tbsp cayenne pepper *use more for extra heat
2 tbsp onion powder
2 tsp garlic powder
1 tsp paprika
½ tsp salt
2 large eggs, whisked
Instructions
Preheat the oven to 400 deg. F.
Mix the ground sesame seeds with cayenne, onion powder, garlic powder, paprika and salt.
One at a time, dip a piece of chicken into the whisked egg, and then dip into the sesame flour mixture. *For a thick coating like in the picture, dip the chicken back into the egg and dip again in the sesame flour mixture. Place on a baking tray lined with parchment paper. Repeat for all pieces of the chicken.
Bake for 20 minutes, turning once. The chicken nuggets are done when no pink juices flow from the meat.
Enjoy,