Valentine's Day Paleo Cake Pops
This post contains affiliate links including Amazon affiliate links.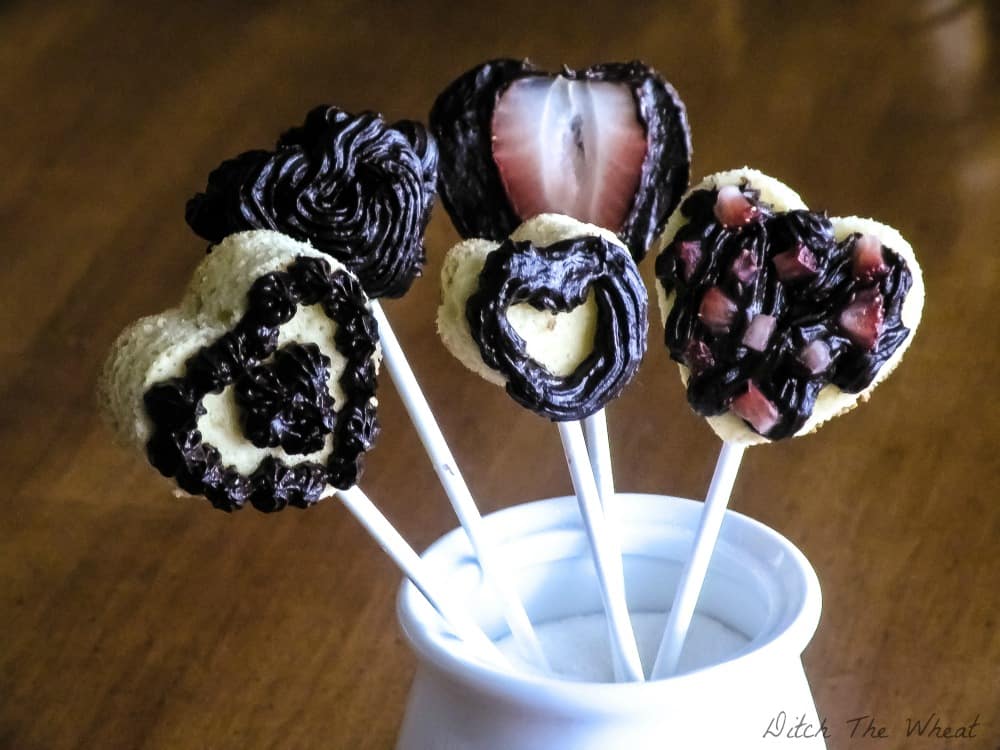 Say "I love you" with Valentine's Day paleo cake pops. Cake pops are cute. Paleo cake pops are even cuter. I wanted in on the trend (or is this trend over?). I wanted to give you a recipe to make paleo cake pops that didn't need those (super expensive, use once) cake pop machines. I worked really hard and tried to frost them to make them look pretty, who are we kidding, I can't win a frosting competition… I also had the hard task of taste testing them for you but I braved it and did it all in the name of making paleo cake pops for you in time for Valentine's Day.
I'm a sucker for romance. Valentine's Day was fun as a kid. The week before you prepare all of your Valentine's Day cards for your classmates and then go to school and have a party all afternoon. Everyone shares treats and hands you cards addressed to you. You feel super special and it's fun. Valentine's Day grown up: watch movies that play on TV and maybe eat a few chocolates? Your hunny gives you a bouquet of roses, which I hate and feel is overrated, I'd rather have paleo cake pops.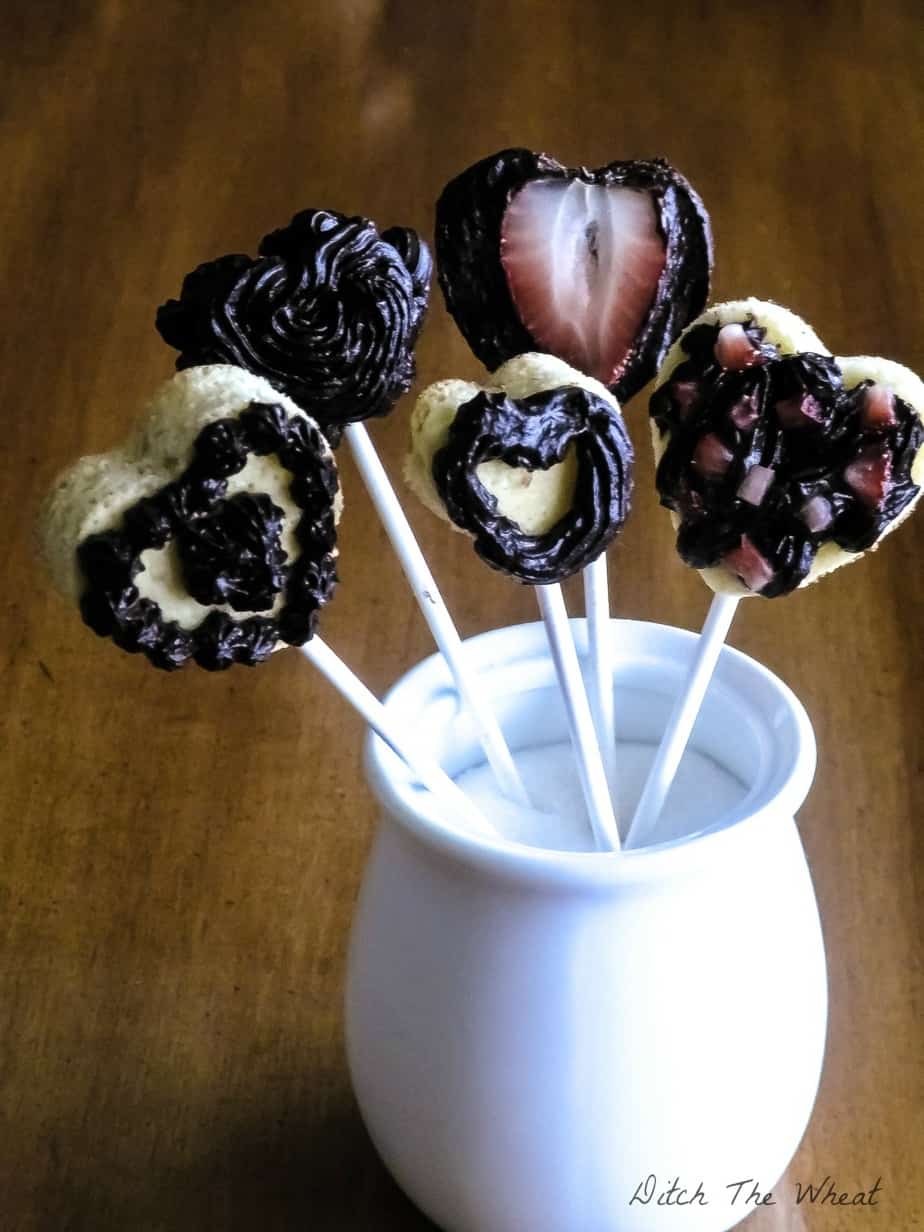 VALENTINE'S DAY PALEO CAKE POPS
Ingredients
Instructions
Preheat oven to 350°F (177°C). Line the bottom of an 8 x 4 inch rectangular loaf pan with parchment paper. In a large bowl combine the egg whites and cream of tartar. Whip until stiff peaks form.
In a bowl, cream together honey and coconut oil. Mix in the egg yolks. Add to the mixture, coconut flour, vanilla, baking soda and salt. Mix until combined.
Fold the batter into the egg whites starting with a little bit at a time. Combine until the batter is completely mixed.
Pour the mixture into the loaf pan. Bake for 20 minutes. The cake is done when a toothpick is inserted and comes out clean.
Let the cake cool.
Use heart shaped cookie cutters and cut out your heart shaped cake pops. Stick lollipop sticks in the cake. The sticks can be purchased at the grocery store.
CHOCOLATE AVOCADO ICING
Ingredients
Instructions
Place all the ingredients in a food processor and blend until smooth.
Use immediately.
Makes about ½ cup of icing
Notes
Tips: Squeeze your avocado to determine ripeness. If the avocado is hard as a rock it is not ripe and needs to be left on your kitchen counter to ripen. If the avocado can be squeezed it is ripe. If you can squeeze the avocado to the point that it feels "mushy" don't use it. It is too ripe at this stage and will probably be full of brown spots.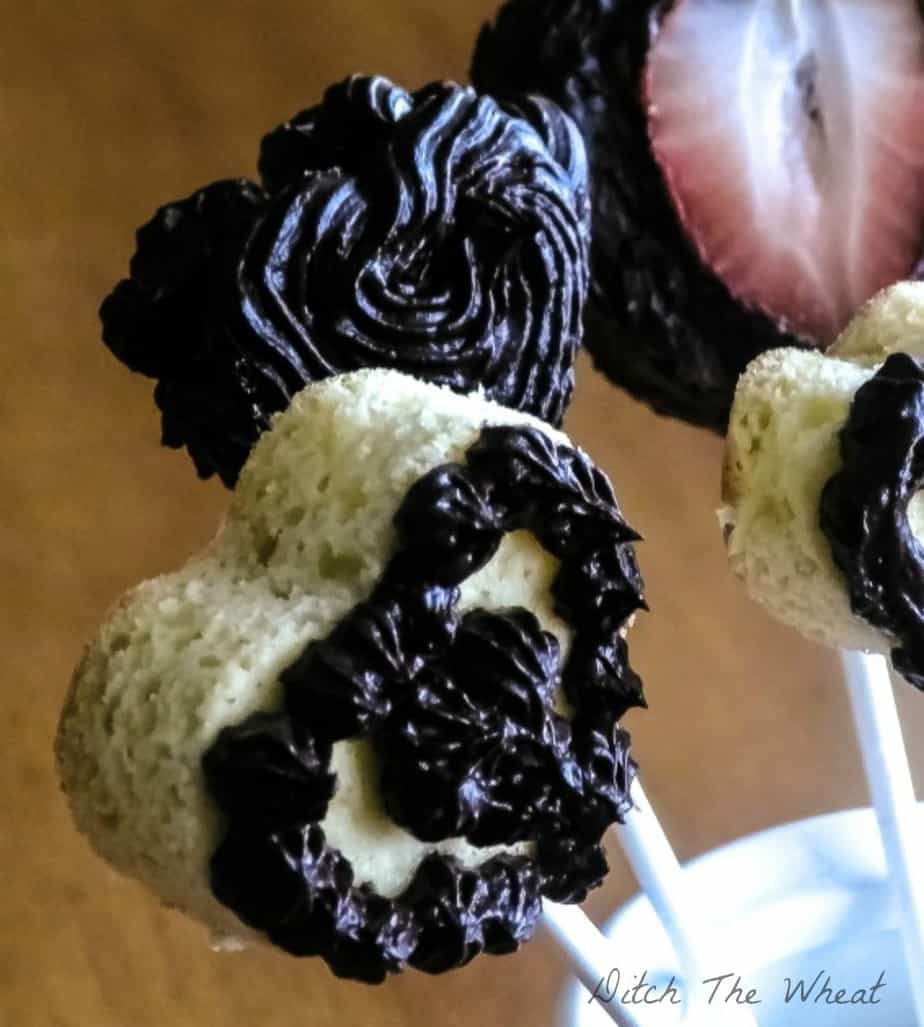 Valentine's Day Paleo Cake Pops
DISCLOSURE: Not intended for the treatment or prevention of disease, nor as a substitute for medical treatment, nor as an alternative to medical advice. Use of recommendations is at the choice and risk of the reader. Ditch the Wheat is a participant in the Amazon Services LLC Associates Program. As an Amazon Associate I earn from qualifying purchases. I may receive monetary compensation or other types of remuneration for my endorsement, recommendation, testimonial and/or link to any products or services from this blog. I only endorse products that I believe in.
Carol Lovett is the founder of Ditch the Wheat and a Globe and Mail bestselling author of the cookbook, Ditch the Wheat. She has been eating gluten free since 2010. She loves all things food, natural living, and spiritual. She's also a reiki master and crystal healer.