Prebiotic & Probiotic Yogurt Snack
This post contains affiliate links including Amazon affiliate links.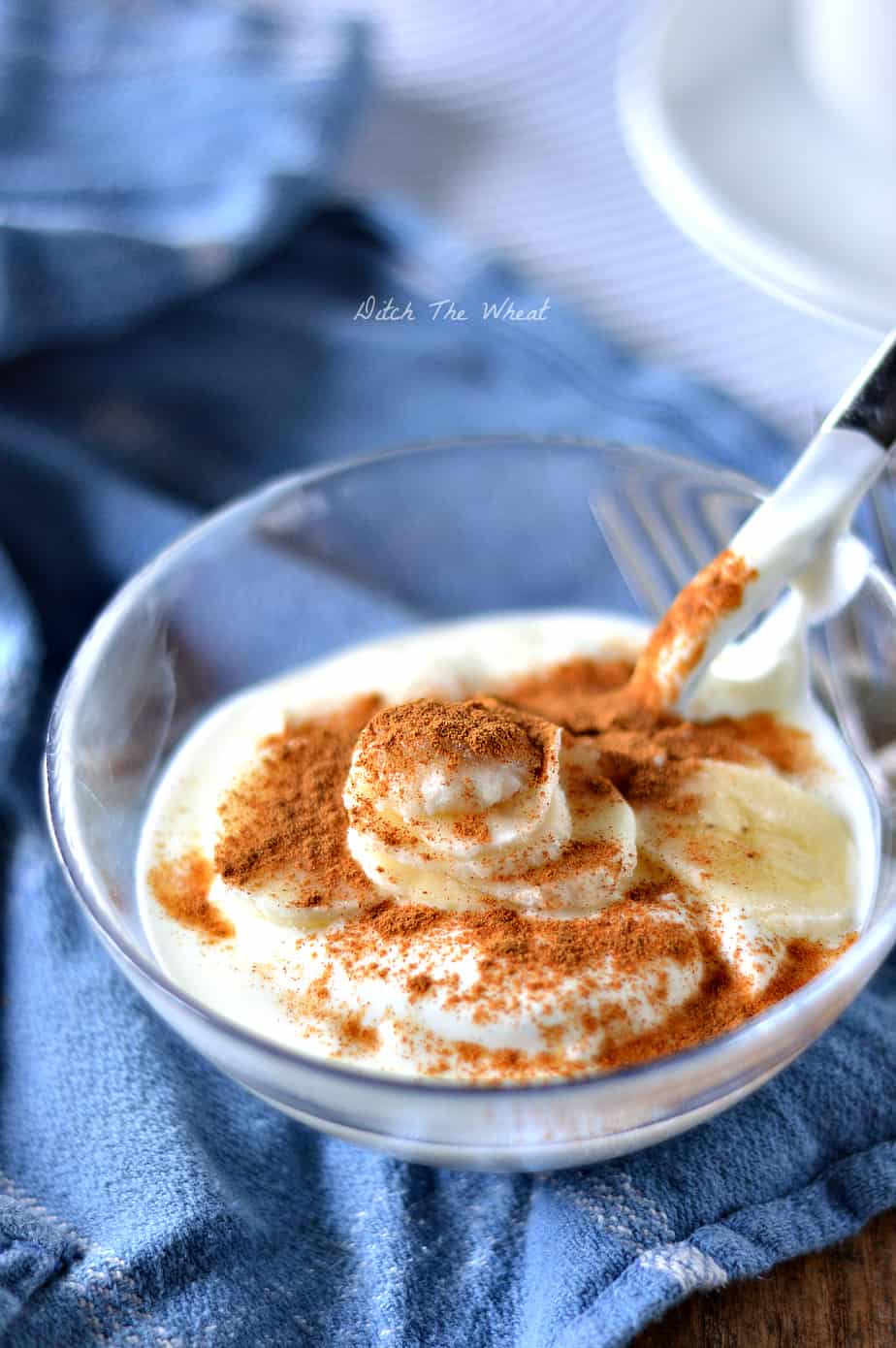 I've been getting more and more into gut health as I venture into the paleo diet adding to it tidbits I learn from the West A. Price Foundation philosophy.
When friends and family ask me how to improve gut health (advice from me as a friend not a medical professional), I always say I've read that probiotics (you can find professional grade probiotics here) is one of the first things you need to do (plus the all-mighty bone broth, you can find a recipe here). I never realized you also need to consider prebiotics.
Prebiotics
Hmmm prebiotics, what the heck are those? Hearing about prebiotics I instantly thought this was another pill you need to take. No, no, no…it's food you should consider eating.
Bananas
Chicory Root
Garlic (check and double check! I love garlic)
Jerusalem Artichokes
Leeks
Onions
These foods are non-digestible. They make it easier for our good bacteria to outnumber our bad bacteria in our digestive system. I find this all so interesting, don't you?
I usually eat yogurt, SCD Legal Yogurt, to be exact, as a snack. I have noticed huge improvements in my tummy since eating the yogurt. If you need the recipe for SCD Yogurt, google it. It's a method, not really a recipe. You make homemade yogurt but instead of culturing (getting the bacteria to take over the yogurt) it for 4 hours you culture it for 24 hours to also digest all the lactose making it easy for people with lactose issues to eat the yogurt. SCD Legal Yogurt tastes slightly sour like sour cream.

Prebiotic & Probiotic Yogurt Snack
For this snack I was out of SCD Legal Yogurt and used organic yogurt that was ensured with a live bacterial culture.
1 cup of organic yogurt or SCD Legal Yogurt
Chopped bananas
Sprinkle of cinnamon
Prebiotic & Probiotic Yogurt Snack
Idea: You could also add 4 raw egg yolks & raw honey to this, then place it in an ice cream machine and make ice cream.
DISCLOSURE: Not intended for the treatment or prevention of disease, nor as a substitute for medical treatment, nor as an alternative to medical advice. Use of recommendations is at the choice and risk of the reader. Ditch the Wheat is a participant in the Amazon Services LLC Associates Program. As an Amazon Associate I earn from qualifying purchases. I may receive monetary compensation or other types of remuneration for my endorsement, recommendation, testimonial and/or link to any products or services from this blog. I only endorse products that I believe in.
Carol Lovett is the founder of Ditch the Wheat and a Globe and Mail bestselling author of the cookbook, Ditch the Wheat. She has been eating gluten free since 2010. She loves all things food, natural living, and spiritual. She's also a reiki master and crystal healer.