Dairy Free Onion Dip with Caramelized Onions
This post contains affiliate links including Amazon affiliate links.
Dairy Free Onion Dip
This dairy free onion dip is made with a creamy cashew base and sweet caramelized onions. It's a truly irresistible dip to serve at parties, game nights, and movie nights.
This caramelized onion dip is perfect for those who are on a Paleo, vegan, or dairy free diet that are looking for a flavorful, yet healthy alternative to traditional dips.
Eating dairy free is getting easier. So many of your favorite dips can now be made with blended cashews (like this dip recipe) or dairy free cream cheese.
In 20 minutes (as long as you soak the cashews the night before) you can create a savory dairy free chip dip that is bursting with flavor.
Many people who eat gluten free, tend to eat dairy free too. This simple yet flavorful dip will be the star of your party!
The best part is that this yummy non dairy onion dip is made with wholesome ingredients. It's literally soaked cashews, that when blended turn into a thick dairy free cream cheese, and caramelized onions, garlic, and some lemon juice, salt & pepper for flavor.
You can use this dip like a dairy free french onion dip. But french onion dip usually includes some chives and parsley.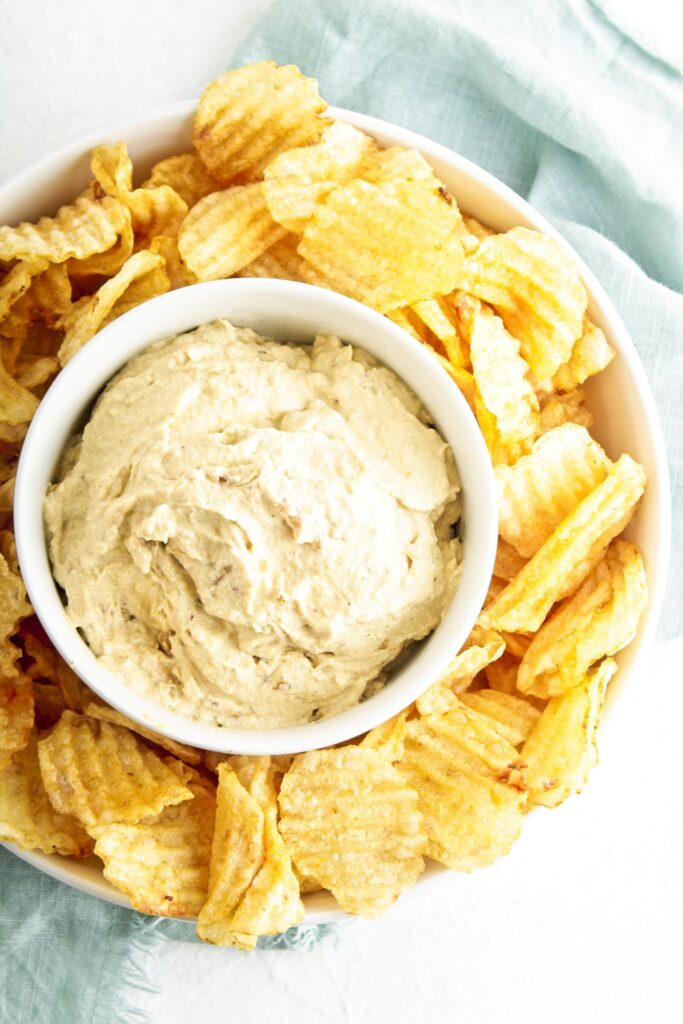 Tools to use for this dairy free dip
For this recipe you will need:
Dairy Free Caramelized Onion Dip Ingredients
You only need a few ingredients to make this non dairy chip dip.
cashew pieces, soaked overnight
yellow onion
neutral oil
garlic
lemon juice
nutritional yeast
salt
ground pepper
How to make Dairy Free Onion Dip
Start by soaking cashews in cold water in the fridge overnight. Drain the water from the cashews.
Slice the onion as thin as you can.
Heat oil in a saucepan over medium heat.
Add the onion. Cook, stirring regularly with a spatula for 5 minutes until the onions are translucent and very soft.
Reduce heat to medium-low and continue cooking for 5 minutes stirring regularly.
Add the minced garlic to the pan.
Cook for another 3-5 minutes until the onions are well browned and soft. Add 1 tbsp water to the pan and stir to collect the browned bits from the bottom of the pan. Remove from heat.
Using a blender, blend cashews with lemon juice and 2 tbsp water on medium power until mostly smooth. Scrape down the sides as needed.
Add the nutritional yeast, salt, and pepper to the blender and continue blending until very smooth.
Add half the onion mixture to the cashew mix. Blend until the onions are in very small bits, adding 1 tbsp water at a time as needed until desired consistency is reached.
Add the remaining onion mixture and pulse just to blend the onions in.
Cover and chill until ready to serve (best if it rests for at least 1 hour).
Keeps covered in the fridge for 3 days.
Vegan Onion Dip
This delicious vegan caramelized onion dip is made with wholesome vegan ingredients. It's completely dairy free.
Dairy Free Veggie Dip
Onion dips are famous for being served with chips but they are also perfect for dipping veggies into.
You can also serve this dip with some carrots, celery, mushrooms, cherry tomatos, broccoli, cauliflower, red & green peppers, and sliced zucchini.
Gluten Free Onion Dip
This is a gluten free chip dip. None of the ingredients contain gluten. It's a healthier choice than using a premade dip from the grocery store.
More Dairy Free Recipes
If you love snacks, here are more Paleo desserts and Paleo snacks! Make sure to check out my huge collection of gluten free dinner recipes.
If you loved this recipe, I would be really grateful if you can rate the recipe card and share any photos you took on Instagram using #ditchthewheat and tag me in your post or story.
Dairy Free Onion Dip Recipe