Welcome to Ditch the Wheat! Before you view the recipe I need to make sure you are aware of this. I hear it all the time... You're asking me to give up bread... Even my type 2 diabetic neighbour refuses to give up bread... There's so many reasons to ditch the bread: - gluten - GMO wheat - simple carbs (that cause weight gain) BUT it's so comforting to bite into a soft piece of bread smeared with butter. What if I told you there's bread you can eat that is Paleo and Keto friendly.
--> CLICK HERE <--
I love the comforting flavours of anything Mexican like.  I could live on tacos, shredded chicken, guacamole etc etc.  Paleo Taco Bowl came to my rescue during another round of WordPress problem.   I'm not sure why I keep getting the brunt of WordPress mishaps but it is exhausting.  I can't link to stuff properly, I have to do that in a word document, I can't upload a picture the normal WordPress way, now I'm on my second recipe plugin that has decided to stop working…  If you are a WordPress guru please message me.
PSssTTTT ~ I also want you to know about the KETO Bread Cookbook. You can eat bread that is Paleo and Keto friendly.
--> CLICK HERE <--
I wish I was one of those lucky people who won the half billion dollar lottery in the USA.  Then I could hire my own IT guru.  I don't even know what I would do with $500 billion dollars.  I wonder what kind of blessings and complications winning a lottery that size would bring.  If the lottery winner is ever craving Mexican cuisine they could make my Paleo Taco Bowl.
Paleo Taco bowl is an extension of Mexican Breakfast.  Except this one is more lunch or dinner focused but you could eat it for breakfast too.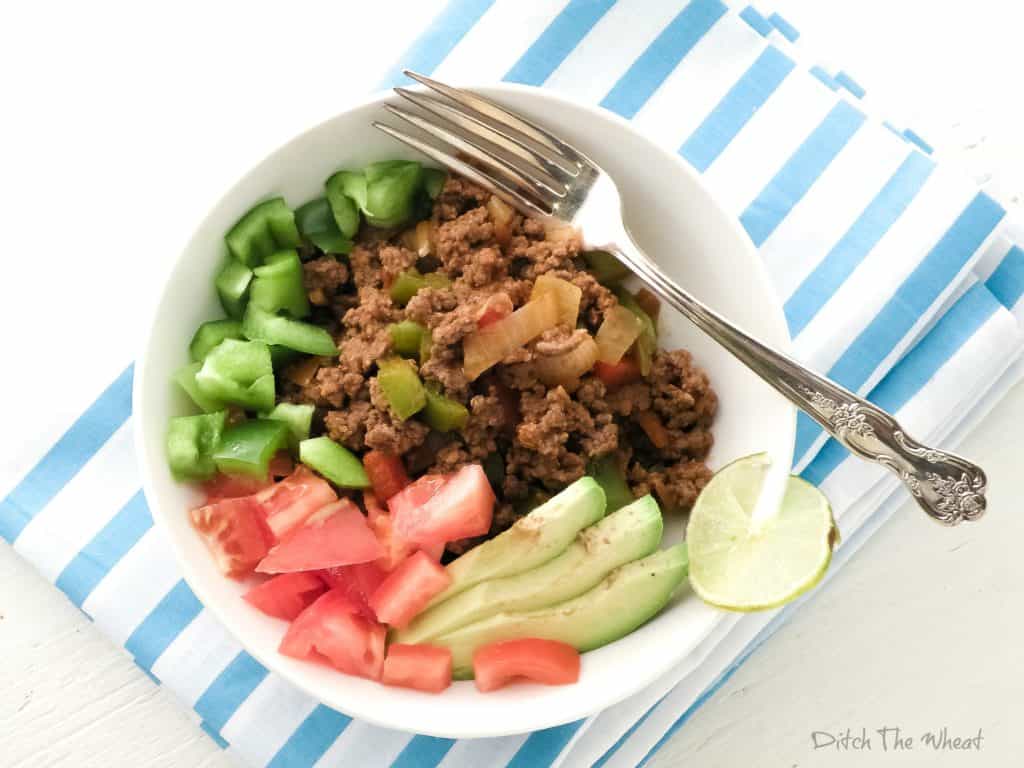 Paleo Taco Bowl Recipe:
Serves: 1
Ingredients
1/2 small onion chopped
1/8 cup or more chopped green pepper
1/8 cup or more chopped red pepper
1/2 cup ground beef *I'm not sure how much I used in pounds but it was roughly 1/2 of a cup per serving
1/4 cup of salsa *I used spicy salsa
Ingredients for topping: avocado slices, tomatoes, peppers etc
Instructions
In a frying pan saute the onion and peppers.
Add the ground beef and season with a sprinkle of salt and pepper.
Add the salsa when the ground beef is fully cooked (no longer pink).
Stir to evenly coat the beef and sauteed vegetables.
Place in a bowl and top with your favourite taco toppings.  I sqeezed fresh lime juice over it.
Eat!
What toppings would you put on your Paleo Taco Bowl?
Enjoy,