Easy Gluten-Free Dinner Ideas
This post contains affiliate links including Amazon affiliate links.
Easy Gluten-Free Dinner Ideas
Following a gluten-free lifestyle doesn't have to be difficult! To help you make your transition into a gluten-free lifestyle as simple as possible, I'm sharing my easy gluten-free dinner ideas with you.
Tip #1: My favourite way to make my life easier is to cook double and freeze half of a recipe to eat at another time. When you have a delicious gluten-free supper in the freezer that can be ready to eat in minutes, you are less tempted to grab something unhealthy at a drive-thru or order as takeout.
Easy Gluten-Free Dinner Ideas
Burgers – When eating your favourite burger, just skip the gluten-filled bun and wrap it in a large piece of lettuce instead. Of course, you can always make Paleo Sandwich Buns from my cookbook, Ditch the Wheat, and freeze the leftover buns for up to 3 months.
pizza – You don't have to give up pizza when you follow a gluten-free lifestyle. Simply use almond flour instead of wheat flour for a delicious pizza crust that tastes just like a traditional pizza crust. My recipe for Paleo Almond Flour Pizza from my website, Ditch the Wheat, makes a thin and crispy pizza that everyone will love!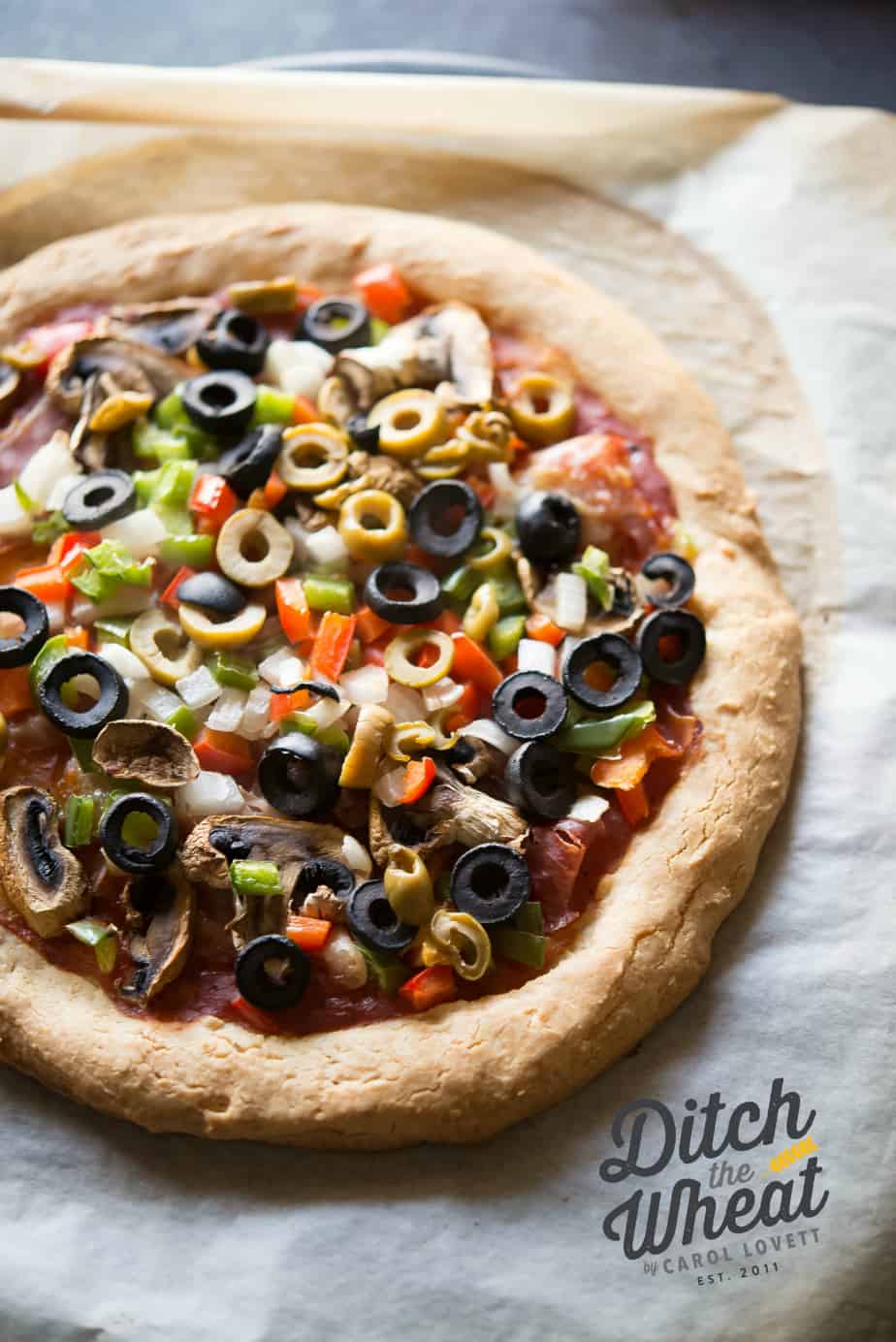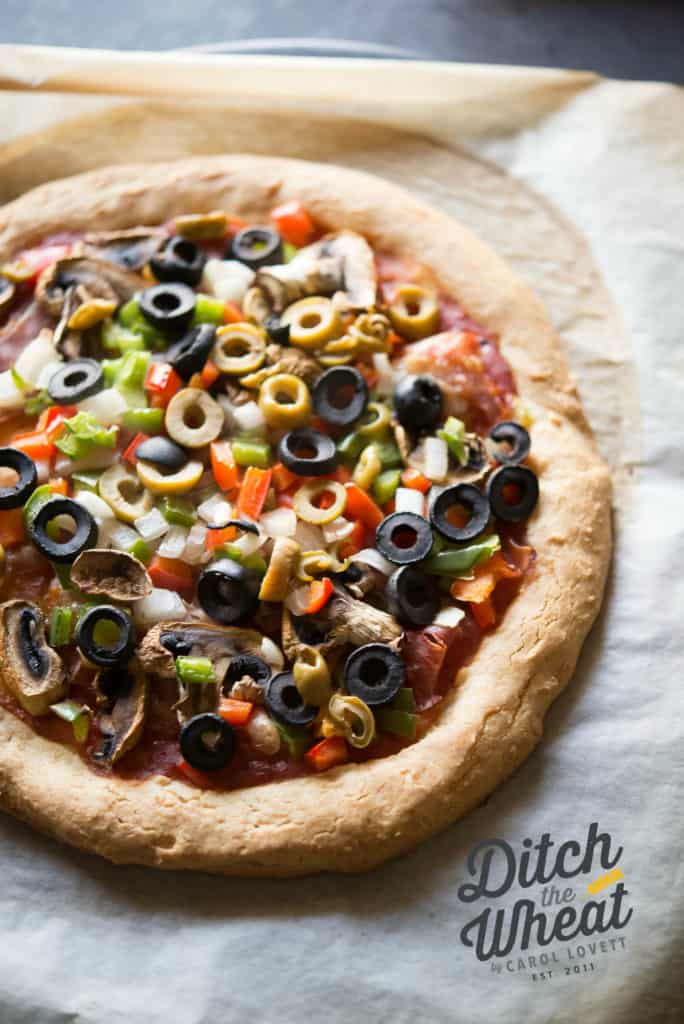 This pizza crust recipe is in the Ditch the Wheat cookbook.
Pasta – Instead of spaghetti noodles in your favourite pasta dish, use zucchini noodles. Use a spiralizer or vegetable peeler to make the zucchini into "noodles." You can eat them as is or sauté in one or two tablespoons of olive oil or coconut oil until desired doneness.
Another Noodle Idea – Roasted spaghetti squash also makes a delicious substitute for traditional spaghetti. Recipe for how to roast spaghetti squash here.
Meatballs/Meatloaf – Use chopped mushrooms or almond flour in place of breadcrumbs in these recipes.
Soups/Stews – Use arrowroot to thicken them. Turn zucchini or carrots into noodles for soup.
Stir-fry – I love making stir-fry from carrots, onions, broccoli, cauliflower and then I pick a protein. Sometimes I eat it without a sauce other times I make a sweet and sour sauce. Did you know that soy sauce has gluten? It sure does, but you can easily substitute coconut aminos or tamari (gluten free soy sauce) in your favourite Asian or stir-fry recipes.
Roast Chicken – This is an easy recipe to make. Rub melted butter or olive oil over the chicken and then add salt and pepper + your other favourite herbs. You can add starches to the pan to roast at the same time.
Breading – I LOVE chicken strips and chicken nuggets! If you have a recipe that requires breading that you love try using almond flour in place of the bread crumbs or flour. Almond meal is more coarsely ground than almond flour and still has its skin. Dip a piece of fish or meat into a beaten egg and cover in almond flour plus seasoning before baking or pan frying.
My cookbook, Ditch the Wheat, has tons of easy and practical gluten-free dinner recipes. Check it out today. You can find it here.
DISCLOSURE: Not intended for the treatment or prevention of disease, nor as a substitute for medical treatment, nor as an alternative to medical advice. Use of recommendations is at the choice and risk of the reader. Ditch the Wheat is a participant in the Amazon Services LLC Associates Program. As an Amazon Associate I earn from qualifying purchases. I may receive monetary compensation or other types of remuneration for my endorsement, recommendation, testimonial and/or link to any products or services from this blog. I only endorse products that I believe in.
Carol Lovett is the founder of Ditch the Wheat and a Globe and Mail bestselling author of the cookbook, Ditch the Wheat. She has been eating gluten free since 2010. She loves all things food, natural living, and spiritual. She's also a reiki master and crystal healer.