This post contains affiliate links including Amazon affiliate links.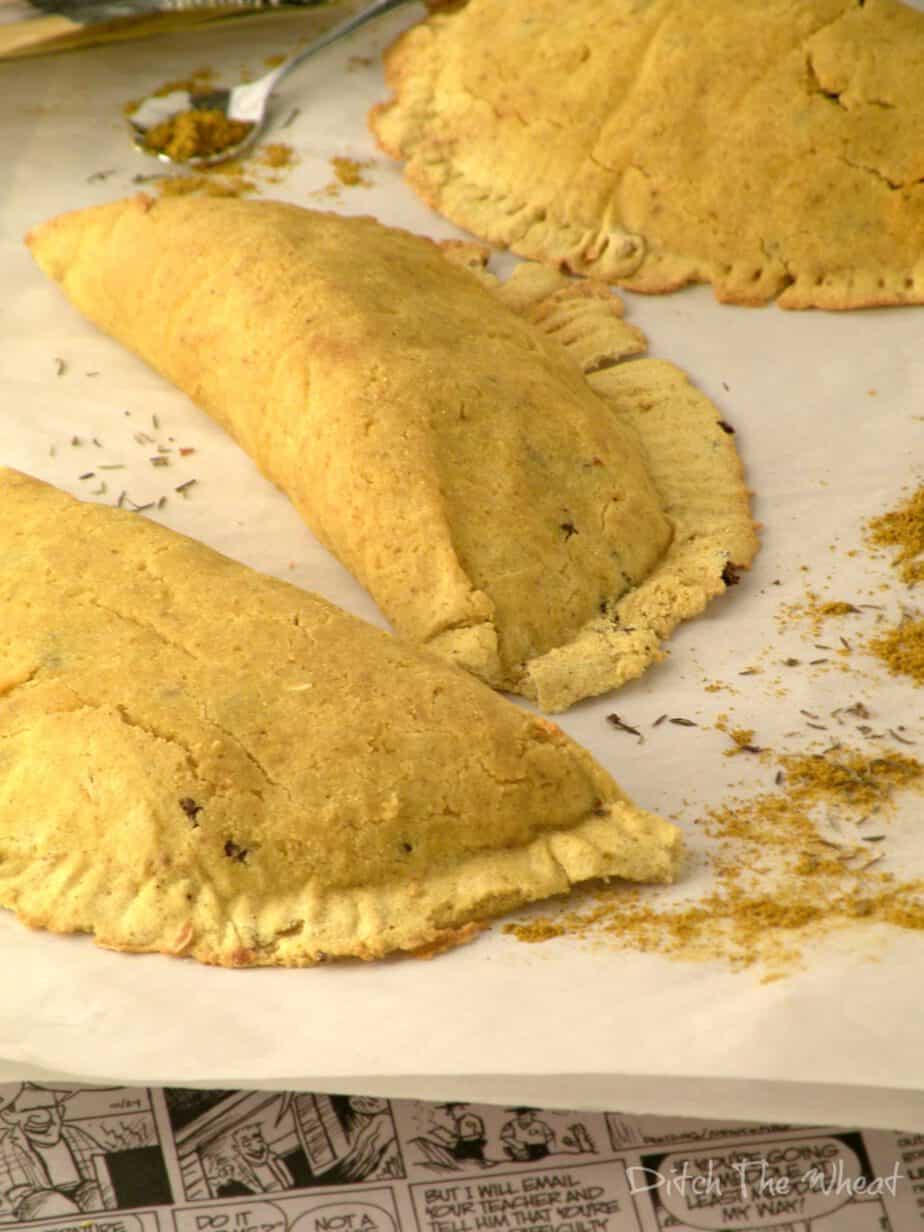 I'm so excited to share with you a recipe for Gluten Free Jamaican Patties.  When I was attending University in Toronto I lived on Jamaican patties.  I'm one of those people who was always running late.  When I lived in Toronto, I had to be ready at least an hour early so I could catch the bus to catch the subway to continue on another bus to get somewhere.  I learned quickly I could always count on convenience stores located in the subway to provide me with a yummy breakfast.  Ok, so I wasn't a health conscience university student, and as a result, I gained the freshman thirty.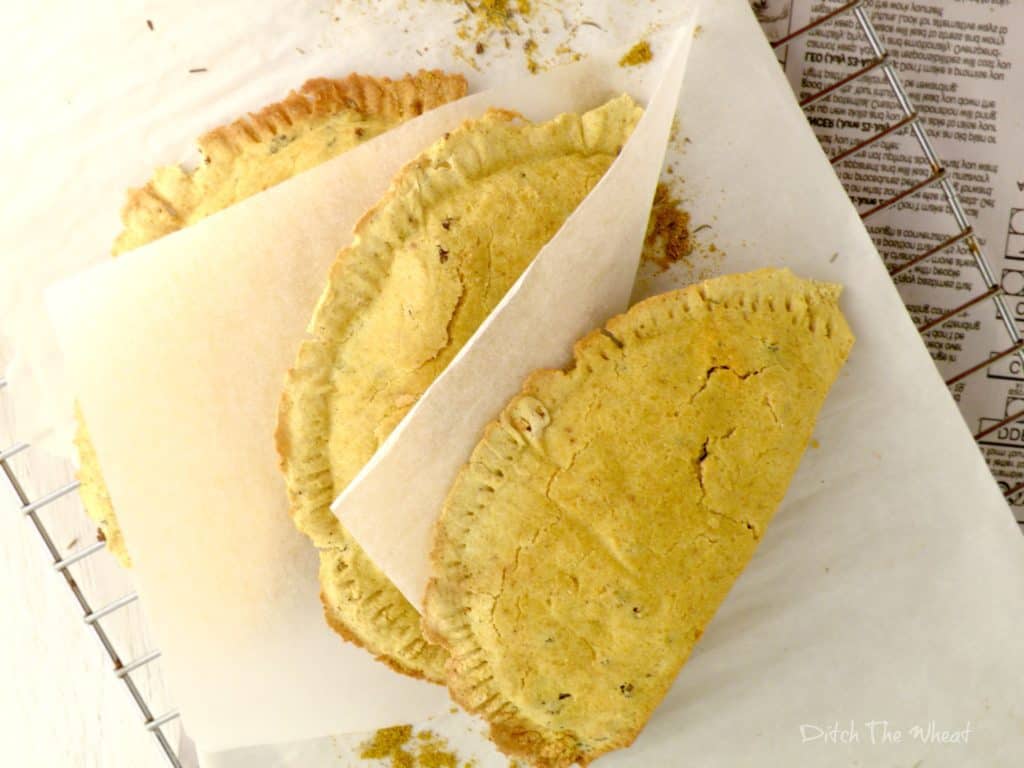 I still love the idea of "convenience" food.  I like being able to pick-up my food, put it in my hand and eat as I go.  Fortunately for me I live in the country now and my life isn't "go-go-go" anymore.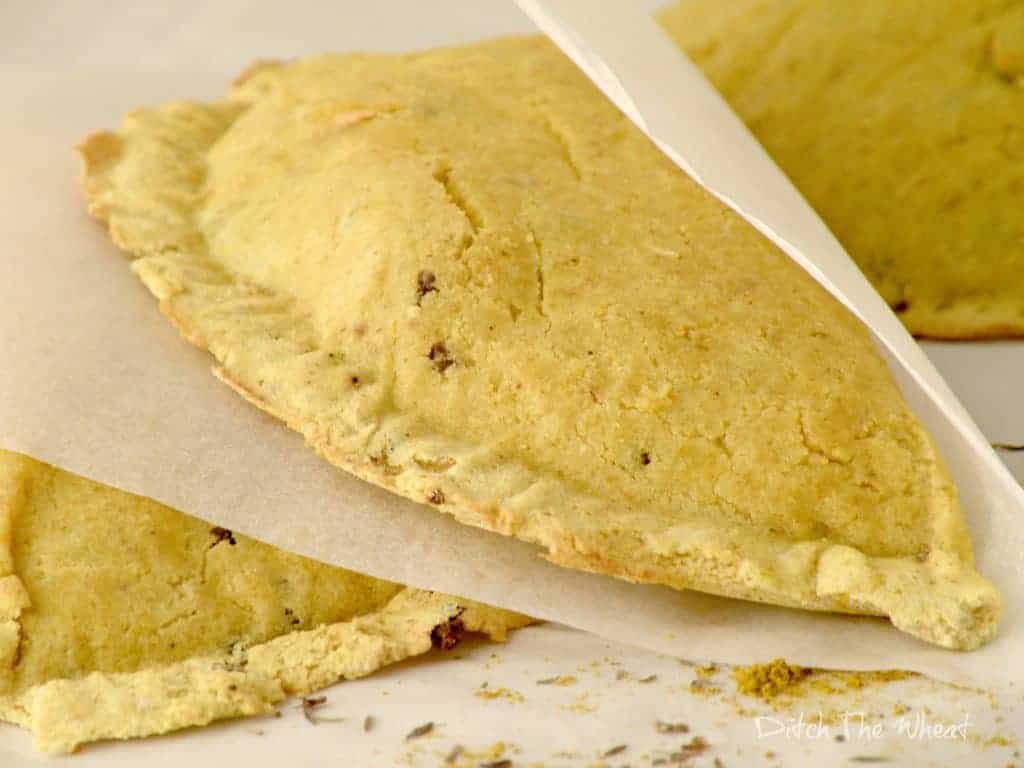 One of my recipe goals has always been to make Gluten Free Jamaican Patties.  I thought I would accomplish it with almond flour.  I love playing around with coconut flour.  I made dough which resulted in an awesome pizza pocket.  I ate it before photographing it but I promise I'll release that recipe soon.  When that recipe turned out well I took the concept and made a Jamaican patty out of it.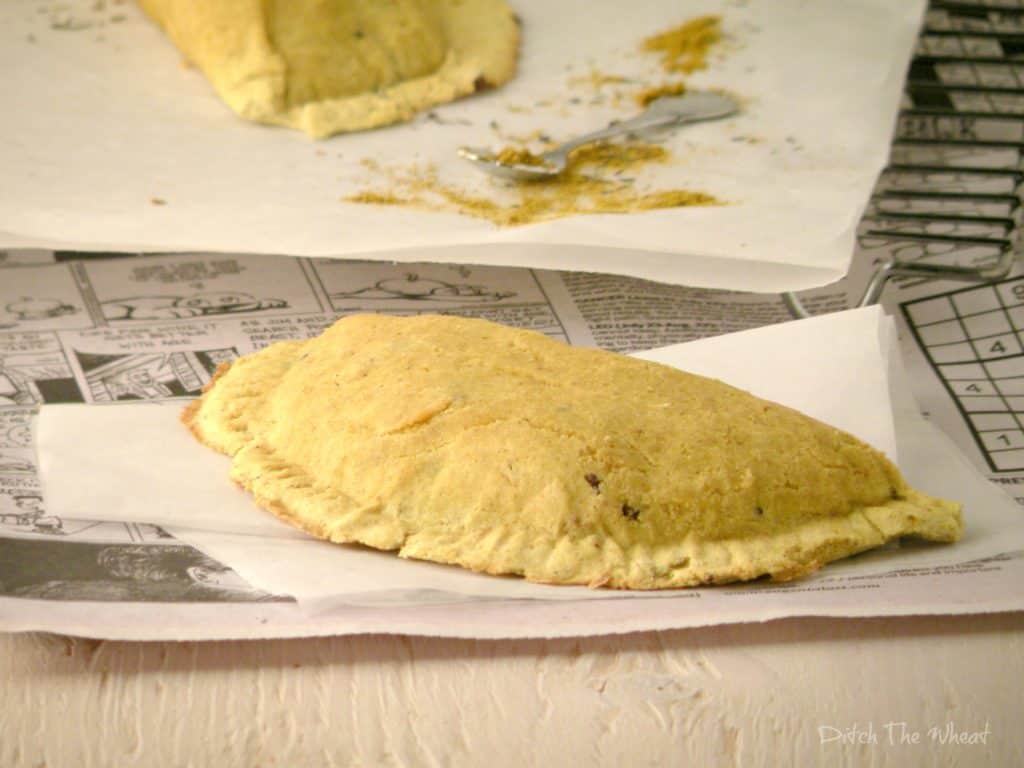 For the inside of my Gluten Free Jamaican Patty I relied on a ton of Google recipe searches.  I went with the standard ratios of curry powder, onion and meat.  Next time, I will make two changes.  If you remember the texture of a Jamaican patty the meat is finely ground, more like a paste (think Taco Bell finely ground taco meat).  I suggest taking your (pre-cooked or post cooked) hamburger and grinding it more finely in a food processer.  Secondly, I would love to try this with chopped scotch bonnet pepper.

GLUTEN FREE JAMAICAN PATTIES
Ingredients
Pastry:
2 large eggs, separated
1 tsp cream of tartar
1/2 cup of plain almond milk (vanilla flavoured can be used and will not affect the flavour)
2 tbsp extra virgin coconut oil
1/2 cup + 2 tbsp coconut flour, sifted
1 tsp curry powder
1/2 tsp baking powder
Dash of salt
Filling:
1/4 pound (250 grams) raw ground beef
1/4 cup of onion, finely diced
1/4 tsp curry powder
1/4 tsp dried thyme
1/4 tsp salt
1/4 tsp ground pepper
*Optional to add some heat 1/4 tsp cayenne pepper or scotch bonnet pepper, chopped
Instructions
Pastry:
In a bowl, add the egg whites, cream of tartar and almond milk. Whip to soft peaks.
Mix in the coconut oil and egg yolks.
Slowly add the coconut flour, curry, baking powder and salt. The dough will thicken.
Mix until smooth.
Filling:
Saute the onions, curry powder, thyme, salt, ground pepper in a frying pan.
Add the ground beef.
Continue cooking on low-medium heat until the meat is no longer pink and the juices have been re-absorbed.
Jamaican Patties:
Preheat your oven to 350 F.
Cut a piece of parchment paper the same size as your baking sheet.
*If your baking sheet has edges that prevent rolling the dough, lay your parchment paper on a flat surface.
Take the dough and make 4-6 balls. (I made 4 large Jamaican patties, you can make them smaller).
Place wax paper or parchment paper over the dough and use a rolling pin to flatten the dough.
Place some hamburger filling on each piece of dough. Don't overfill, if in doubt use less.
Refer to the diagram for this part. Lift the parchment paper over the dough, then press the dough into the other half. Press the edges with a fork.
Lift the parchment paper off and repeat for the other side.
*My recipe notes are smudged where I wrote the baking time. It is either 30 or 40 minutes. The jamaican patties are done when the dough is cooked through. It is crispy and not burnt.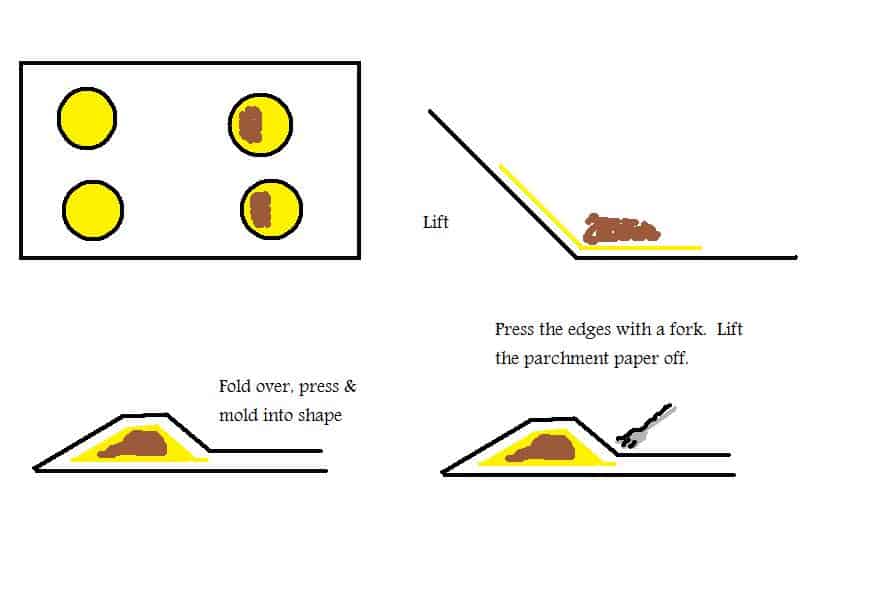 What's your favourite convenience food?
Enjoy,
DISCLOSURE: Not intended for the treatment or prevention of disease, nor as a substitute for medical treatment, nor as an alternative to medical advice. Use of recommendations is at the choice and risk of the reader. Ditch the Wheat is a participant in the Amazon Services LLC Associates Program. As an Amazon Associate I earn from qualifying purchases. I may receive monetary compensation or other types of remuneration for my endorsement, recommendation, testimonial and/or link to any products or services from this blog. I only endorse products that believe in.