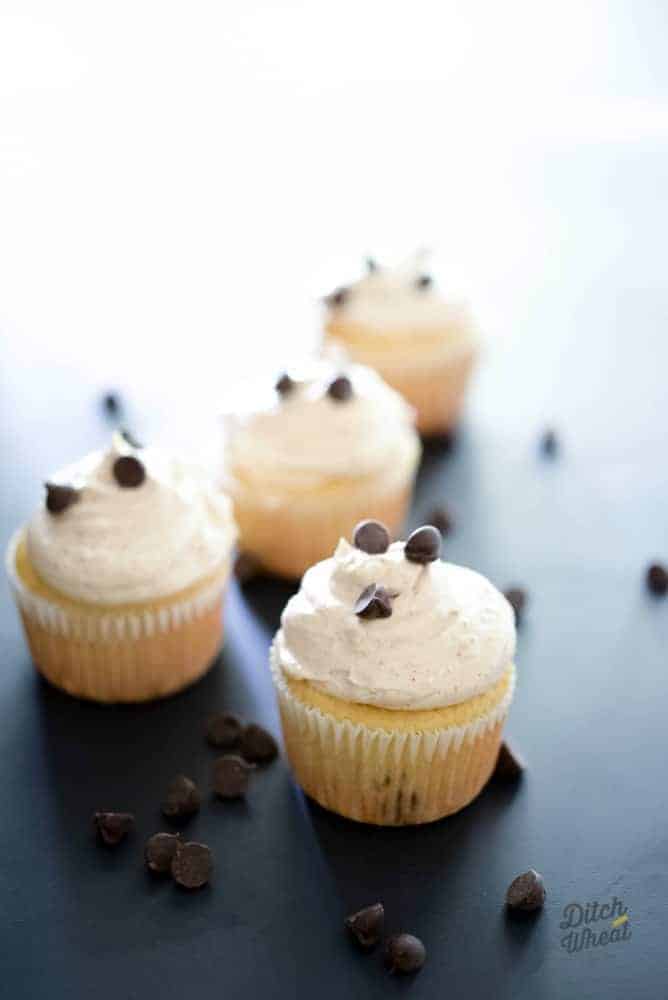 Here's another sneak peek recipe from my digital cookbook, The Grain-Free Snacker.  I adore cupcakes.  This cupcake is made with coconut flour (my favourite grain-free flour).

I love using coconut flour as the base of my grain-free cupcakes and muffins.  The texture is amazing if you use the correct ratios. These cupcakes will remind you of the light and fluffy cupcakes from your pre-grain-free life.  And the chocolate chip cookie icing adds extra indulgence.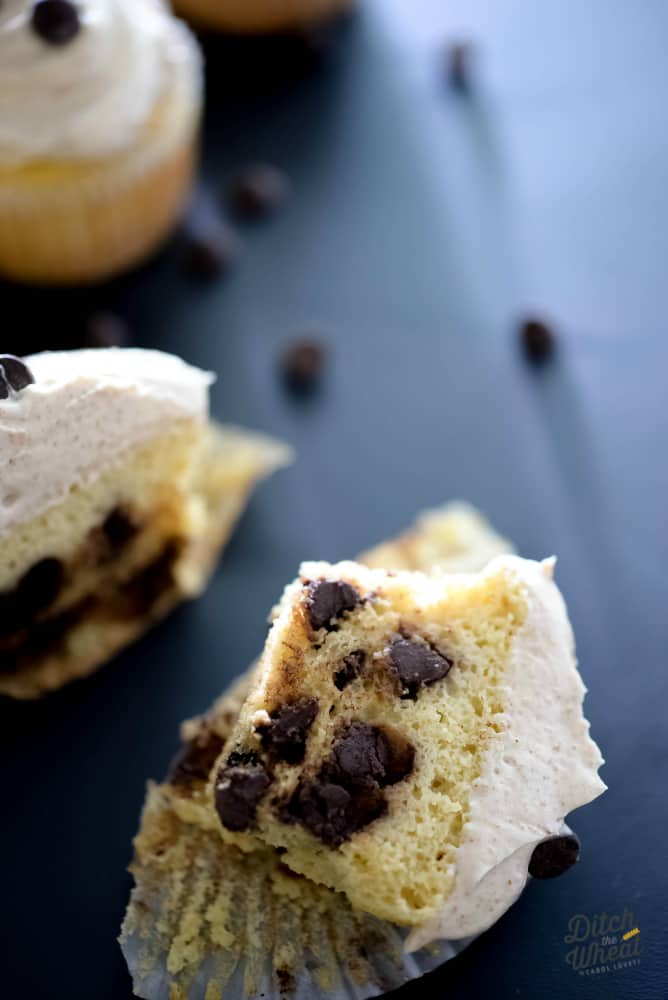 CHOCOLATE CHIP CUPCAKES WITH CHOCOLATE CHIP COOKIE ICING
CHOCOLATE CHIP COOKIE ICING:
Instructions
CUPCAKE BATTER INSTRUCTIONS:
Preheat oven to 350° F. Line a six-count cupcake pan with cupcake liners.
In a large bowl, using a mixing machine, combine the egg whites, maple syrup and cream of tartar. Whip the egg whites until stiff peaks form.
In a separate bowl, combine the egg yolks, coconut oil, vanilla, and salt until mixed. Add the sifted coconut flour and baking soda to the egg yolk mixture. Mix until smooth.
With the mixer on, slowly add the egg yolk mixture to the whipped egg whites. Last, add the chocolate chips. Mix until well combined. Pour the batter into the cupcake pan, about half full.
Bake for 15 to 20 minutes until the tops are firm to the touch and a toothpick comes out clean.
ICING INSTRUCTIONS:
Place the ingredients except the chocolate chips in a large bowl. Use a mixing machine to whip the ingredients until the icing is light and fluffy. Spread the icing on fully-cooled cupcakes. Sprinkle chocolate chips on top.
Consume the cupcakes immediately or store in an airtight container for no longer than 2 days. You can also freeze the cupcakes.
Purchase The Grain-Free Snacker now for 75% off, while it's still available for pre-order.  This guarantees you the lowest price.  Pre-order period is over.  You can purchase here.