This post contains affiliate links including Amazon affiliate links.
The perfect fall harvest salad. Full of cranberries, clementines, pecans and bacon! It is a sweet, hearty salad.
I created this fall harvest salad way back in 2016.  It seemed perfect to share this fall salad now.  I love the mix of cranberries, clementines, pecans and bacon!
This salad is the perfect fall salad.  It is a sweet salad that is hearty.  When I want to cut down on the sugar in the salad dressing I mix olive oil with balsamic vinegar and sprinkle it with sea salt and fresh ground pepper.

Fall Harvest Salad Recipe

Yield: 12 servings
Prep time: 15 minutes
Fall Harvest Salad Ingredients
6 cups mixed salad greens
4 slices bacon, cooked and chopped
2 clementines, segmented
½ cup unsweetened dried cranberries
½ cup pecan pieces
¼ cup shredded carrot
Up to ¾ cup Maple Balsamic Salad Dressing (See below)
How to Make Fall Harvest Salad

Place salad ingredients in a large bowl, and ½ cup of the salad dressing and toss. If you feel you need more dressing, add up to ¼ cup more, adding it in 1-tablespoon increments.

Serve immediately or keep salad covered in the refrigerator and add dressing when ready to serve.
Note: To segment clementines, use a paring knife to slice off the top and bottom of each clementine. Cut off all the skin including the exposed membrane of the segments. Use the knife to remove each individual segment, leaving the membrane behind.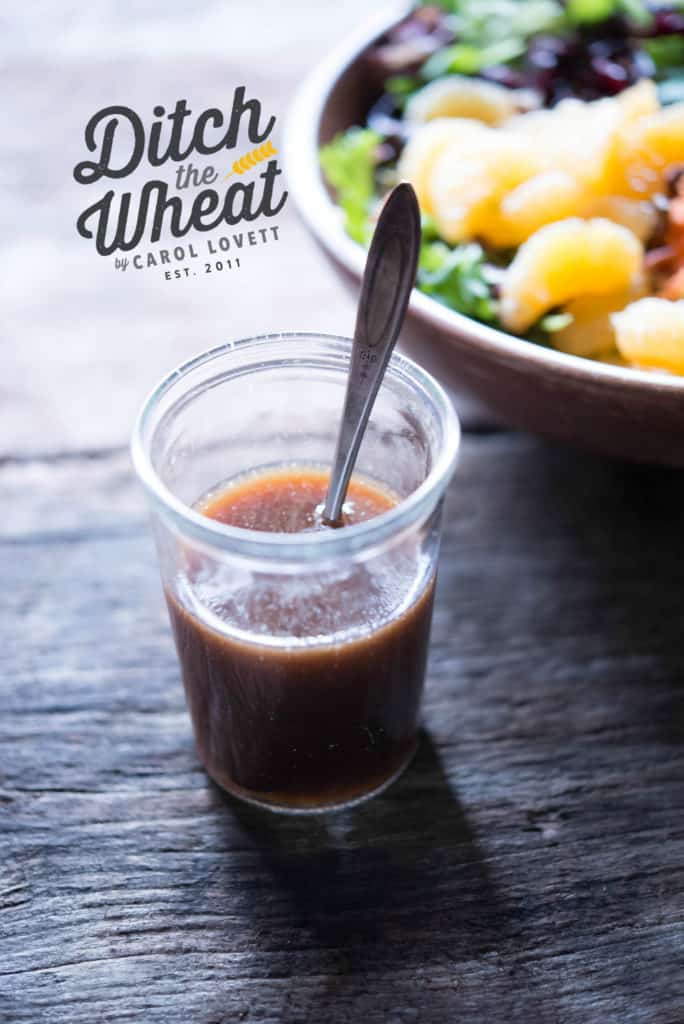 Maple Balsamic Dressing
Yield: about ½ cup
Prep Time: 2 minutes
This is a sweet salad dressing that allows maple syrup to be the star. Since it's on the sweet side I only serve it at special occasions.
Ingredients:
⅓ cup extra light olive oil
2 tablespoons maple syrup
2 tablespoons balsamic vinegar
2 teaspoons Dijon mustard
½ teaspoon fine sea salt
Instructions:
Place all the ingredients in a bowl. Whisk together until combined.

Store in the fridge until ready to use.

On the day you plan on using the dressing, check to see if the olive oil has solidified in the fridge. If it has, remove the dressing and allow it to come to room temperature for 20 minutes. Whisk again before serving.

Keeps up to 3 weeks in the fridge.
DISCLOSURE: Not intended for the treatment or prevention of disease, nor as a substitute for medical treatment, nor as an alternative to medical advice. Use of recommendations is at the choice and risk of the reader. Ditch the Wheat is a participant in the Amazon Services LLC Associates Program. As an Amazon Associate I earn from qualifying purchases. I may receive monetary compensation or other types of remuneration for my endorsement, recommendation, testimonial and/or link to any products or services from this blog. I only endorse products that believe in.