Welcome to Ditch the Wheat! Before you view the recipe I need to make sure you are aware of this. I hear it all the time... You're asking me to give up bread... Even my type 2 diabetic neighbour refuses to give up bread... There's so many reasons to ditch the bread: - gluten - GMO wheat - simple carbs (that cause weight gain) BUT it's so comforting to bite into a soft piece of bread smeared with butter. What if I told you there's bread you can eat that is Paleo and Keto friendly.
--> CLICK HERE <--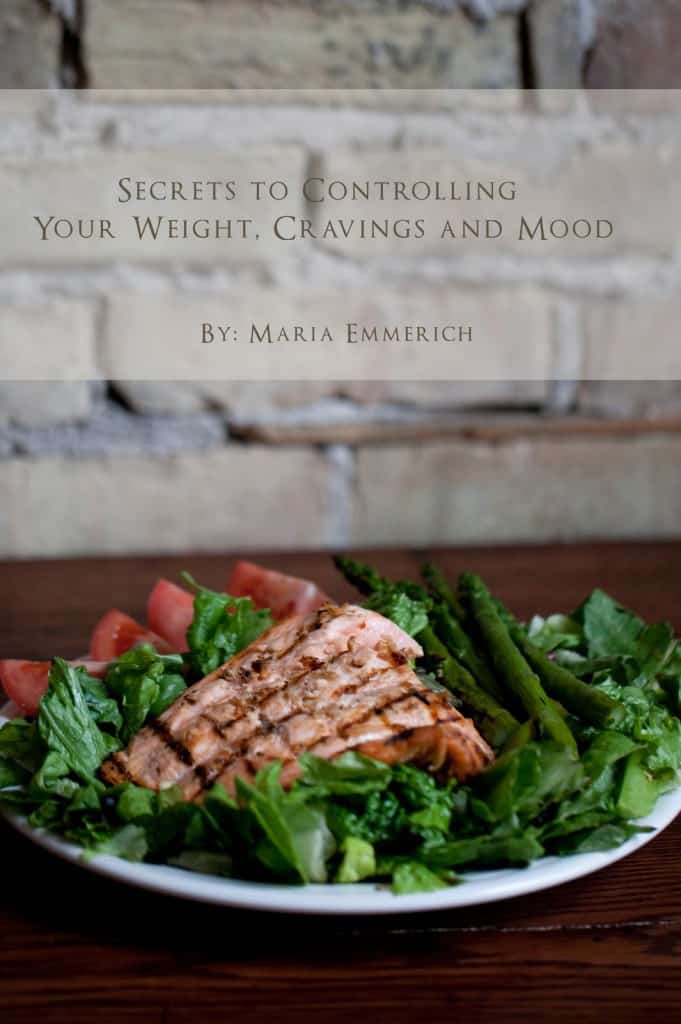 I recently finished reading Maria Emmerich's book, Secrets to Controlling your Weight, Cravings & Mood.  I love Maria's blog, and I religiously read all of her posts.  I'm little bias towards Maria and her words of wisdom.  I bought the kindle version her book for $9.99.  Since then I've been on a kindle book buying spree!
Just as the title suggests it's all about using food and/or supplements to improve your mood.  I found the food – mood connection extremely interesting.  When I started eating low carb/gluten free, within weeks I noticed a huge boost in "happiness."  After digging deeper into the experience I discovered FAT is nature's Prozac.  Imagine that, eating the skin on the chicken breast, cooking in bacon fat, using coconut oil, and other forms of natural fat can boost your mood.
The theme of the book centers around these four areas taken from page 98:
For 90% of dieters, a deficiency in one of four essential brain chemicals can cause weight gain, fatigue, and stress.  The solution to losing weight doesn't lie in deprivation diets; it lies in balancing our neurotransmitters.  Specialized nutritionists, like myself, and advanced practitioners are focusing on how the brain affects our health.

Serotonin influences appetite
GABA curbs emotional eating
Acetylcholine regulates fat storage
Dopamine controls metabolism

I found this particular section on Vitamin D in the book interesting.
Maria explains low vitamin D can be contributed to chronic fatigue & depression.  Infertility has been linked to low vitamin D and Vitamin D is 800% more effective at preventing influenza infections in children than vaccines.  Maria recommends you take around 5000 ius a day – Vit D-3 is preferred.
I was completely unaware vitamin D played so many roles.
If you want to know more about the Secrets to Controlling your Weight, Cravings & Mood, you can buy the book by clicking here, or the Kindle version by clicking here.  Visit Maria's Facebook page and blog for daily information on how food affects you and what to do about it.
PSssTTTT ~ I also want you to know about the KETO Bread Cookbook. You can eat bread that is Paleo and Keto friendly.
--> CLICK HERE <--
Enjoy,
p.s.  The last chapter of the book is dedicated to low carb, gluten free recipes, ranging in snacks, meals, to dessert.