This post contains affiliate links including Amazon affiliate links.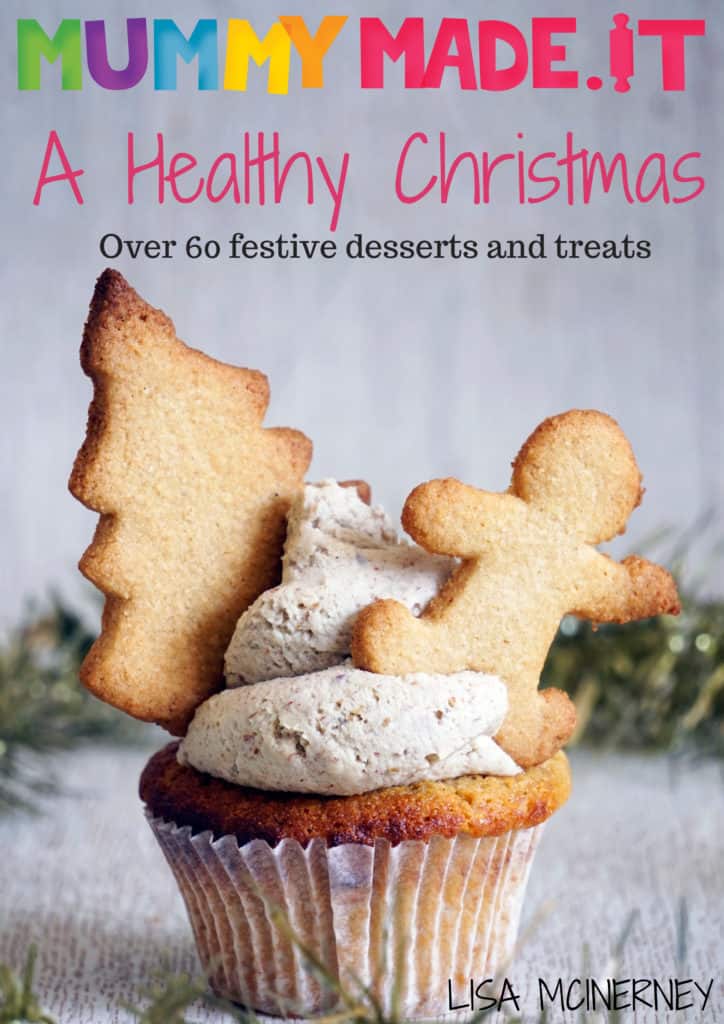 Happy Holidays!
I love this time of year, don't you? There's just something magical in the air as people are hustling around buying gifts for their loved ones, stringing up Christmas lights around their homes, trimming the Christmas tree, and children taking their pictures with Santa.
It's also the best part of the year for all things peppermint, traditional holiday dishes, and my favorite – holiday baking. I love holiday desserts!
That's why I was thrilled to get my friend Lisa McInerney's new ebook, Mummy Made.It A Healthy Christmas – Over 60 Festive Desserts and Treats. In her new book, she shows us how we can still enjoy holiday treats made with real food ingredients and not feel guilty afterward.
Lisa states, "It is my favorite cooking time of year! With all that Christmas food, countless parties, and leftovers, it can be easy to overindulge in just a bit too much Christmas cheer. What if I told you there was a better way? A healthier way to eat your festive treats without feeling the post party guilty or that you've lost your way? That's what this book is for."
All of the recipes in this book are gluten-free and dairy-free, Paleo-friendly, and contain no refined sugars. These are healthier versions of the Christmas treats you have all gown up loving and thought you'd never be able to eat again!
In this Christmas dessert book, you'll find recipes for:
Treats
Cookies & Biscuits
Breads & Muffins
Fruit Mince
Cakes & Cupcakes
Desserts
Puddings
Creams & Frostings
Nothing says Christmas like gingerbread, and what better way to eat your share than as a cupcake! These cupcakes bring all the flavour of classic gingerbread in a small treat. Yum!
Gluten-Free Gingerbread Cupcakes
Serves: 8-10
Cupcake Ingredients
4 eggs, separated

1/4 cup maple syrup

1/4 cup molasses

1 teaspoon vanilla extract

1/2 cup coconut flour

1/2 tablespoon Cocoa powder

2 1/4 teaspoons ground ginger

1 1/4 teaspoons cinnamon

1/2 teaspoon all spice

1/2 teaspoon nutmeg

dash sea salt

3 teaspoons baking powder

1/2 cup milk (of your choice)

1 teaspoon baking soda
Cupcake Directions
Preheat the oven to 175C/350F.

Line a cupcake/muffin tray with 8-10 festive liners and lightly spray.

Place the egg whites in the clean bowl of a kitchen stand mixer and whisk on medium/high until soft peaks form.

Add the maple syrup and then molasses, 1 tablespoon at a time, until all incorporated and the egg white has increased in volume.

While still whisking on med/high add the vanilla extract and egg yolks.

In a separate bowl, sift the dry ingredients (excluding the baking soda) together.

With the whisk on low add the dry ingredients to the wet and whisk only until combined.

In a small saucepan, warm the milk until almost boiling. Immediately add the baking soda. Stir.

Pour the hot milk into the mixing bowl (the whisk should be on low to prevent hot milk from splashing over you).

Evenly pour the mixture amongst the cupcake liners.

Bake for 17-20 minutes or until cooked through (17 for minis, up to 20 for regular)

Leave it cool in the tray for 15 minutes before removing.

Top with cupcakes with whipped cream.
Gingerbread Whipped Cream Ingredients
1 can coconut cream (400 ml), can opened and left in the fridge overnight
1 teaspoon maple syrup
1 teaspoon molasses
2 teaspoons vanilla extract
1 teaspoon ground ginger
Dash cloves and cinnamon
Gingerbread Whipped Cream Directions
Spoon the thickened cream out of the can, discarding the watery remains.
Place all the ingredients in the bowl of a kitchen stand mixer with a whisk attachment fitted.
Whisk until the cream thickens (about 5 minutes).
Place the cream in the fridge to thicken for at least 2 hours.
Gluten-Free Gingerbread Cupcakes
You can find the Mummy Made.It A Healthy Christmas – Over 60 Festive Desserts and Treats here.
DISCLOSURE: Not intended for the treatment or prevention of disease, nor as a substitute for medical treatment, nor as an alternative to medical advice. Use of recommendations is at the choice and risk of the reader. Ditch the Wheat is a participant in the Amazon Services LLC Associates Program. As an Amazon Associate I earn from qualifying purchases. I may receive monetary compensation or other types of remuneration for my endorsement, recommendation, testimonial and/or link to any products or services from this blog. I only endorse products that believe in.