Are Rice Noodles Gluten Free?
This post contains affiliate links including Amazon affiliate links.
Are rice noodles gluten free? Yes, I'll share why they are and why they are sometimes not!
Maybe you're new on the gluten free journey and you're wondering what you can eat.
Who doesn't love it when a noodle is covered in sauce and you can twirl it with your fork (or chopstick!)
Noodles have always been a comforting food. Some noodles you can have on the gluten free diet and some you cannot.
The good news is, most of the time you can eat rice noodles if you eat gluten free. Read below for more information on why that may not be true 100% of the time.
I know rice noodles are high in carbs, but sometimes I like to treat myself to a comforting homemade meal and I'll use rice noodles to help create that.
I also love that they are budget-friendly.
Have fun exploring the many ways you can use rice noodles to elevate your recipes!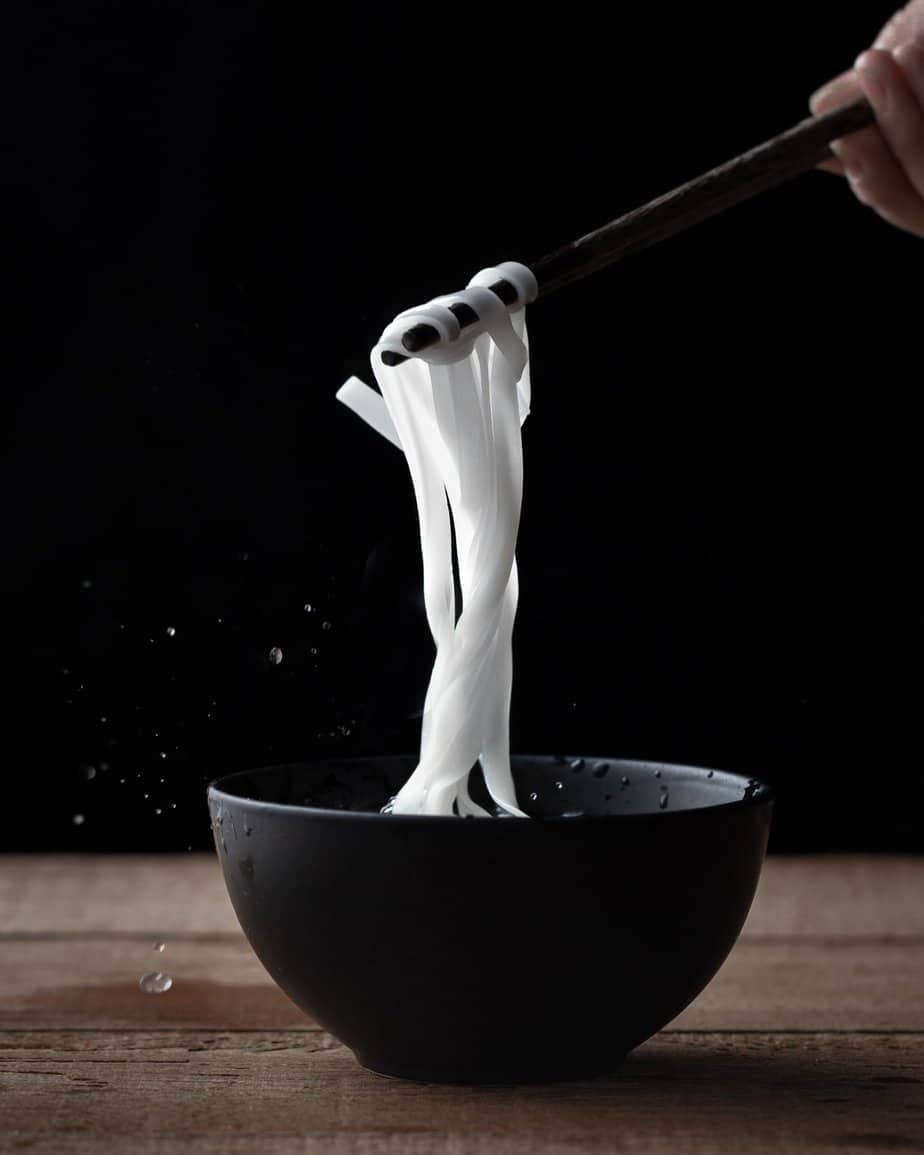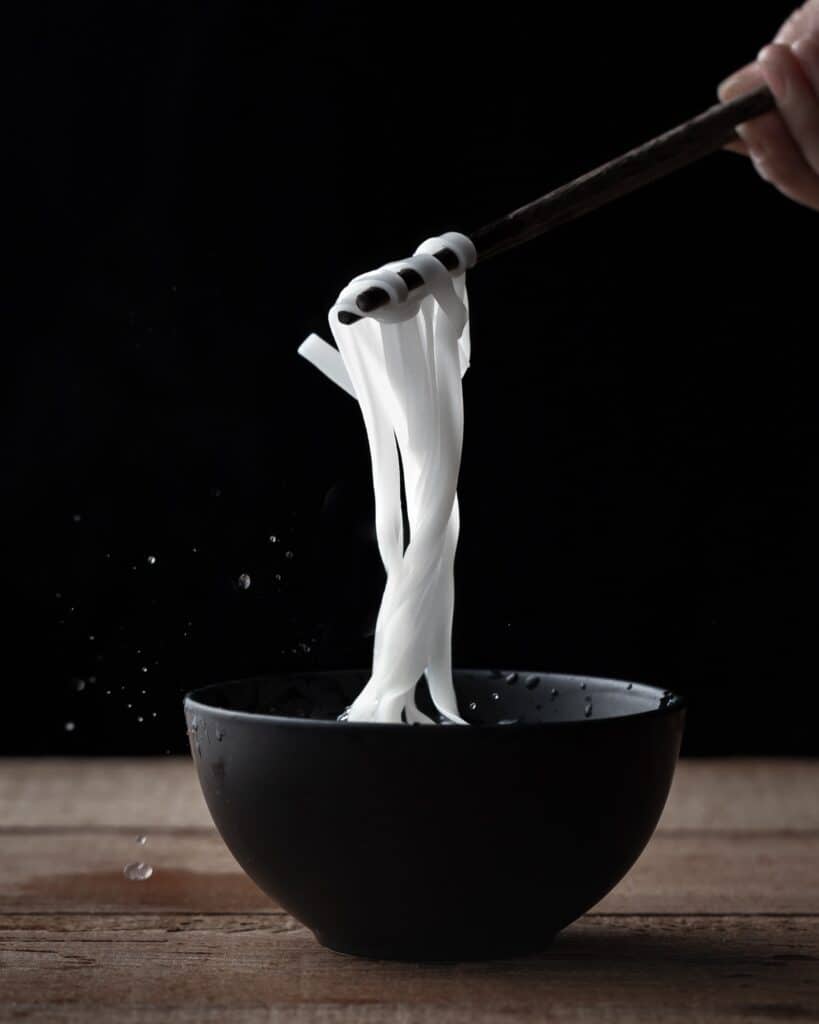 Are Rice Noodles Gluten Free?
Yes, rice noodles made the traditional way are gluten free. These yummy noodles used in Asian dishes are naturally gluten free (but the whole dish itself might not be because of other ingredients).
Some rice noodles have flour added to them so always read the ingredient labels.
Rice Noodle Ingredients
Rice noodles are made with only two ingredients; rice flour and water. Sometimes they also contain starch.
Usually, the starch used is tapioca starch or cornstarch, which both are gluten-free. Always read the ingredient labels just in case a certain manufacturer added flour.
If you are eating at a restaurant that serves fresh rice noodles, ask them what ingredients they used.
History of Rice Noodles
Rice noodles were created during the Qin dynasty, people from the northern part of China invaded the southern part of China. In the north, they were used to making noodles out of wheat and millet.
In the south, they preferred to eat their meals with rice because it grew abundantly in the hot weather.
When the northern people invaded the southern part of China they tried using rice to make their noodles, and this invented rice noodles.
Do rice noodles have dairy?
Rice noodles do not contain dairy. They are naturally dairy free because they are made of rice flour and water, and sometimes starch.
Do rice noodles contain eggs?
Rice noodles do not contain eggs. Rice noodles are only made with rice flour and water, and sometimes starch. The dish the rice noodles are served with might contain eggs.
How is rice made into noodles?
Rice is made into rice noodles in two ways. The traditional way is to ferment the rice, then turn the fermented rice into a paste, then cut the paste into noodles.
The second way is the easier at-home version, where you mix rice flour, and starch, like tapioca starch, with water. You make it into a batter, steam it to create large noodle sheets, and then cut it into thinner noodles.
How to cook rice noodles
Most rice noodles require you to add the rice noodles to boiling water for 5 minutes. Then place the noodles into cold water to stop the cooking process. Add the noodles to your desired dish.
Some varieties of rice noodles like Thai rice noodles require you to soak the noodles in cold water.
Always follow the directions on the package for preparation instructions.
How to use rice noodles
Use rice noodles in Asian dishes. You can add rice noodles to stir fry, ramen soup, etc. I love using rice noodles in homemade soup in place of regular noodles.
Which brands of rice noodles are gluten free?
Most brands of rice noodles are naturally gluten free. I have not seen any certified gluten free brands of rice noodles. I personally feel they all taste the same.
I do not have any specific brands I prefer. I personally buy whatever brand is available at the moment at my grocery store.
Where can I buy rice noodles?
You can buy rice noodles anywhere. They are widely available in any large grocery store. You might have to look in the international section of the grocery store to find them.
You can always find them online at places like Amazon.
I find them effortlessly in my grocery store in Mexico. They are always in the Asian food section of any major grocery store where I live.
For less common varieties of rice noodles, you would need to visit your local Asian grocery store.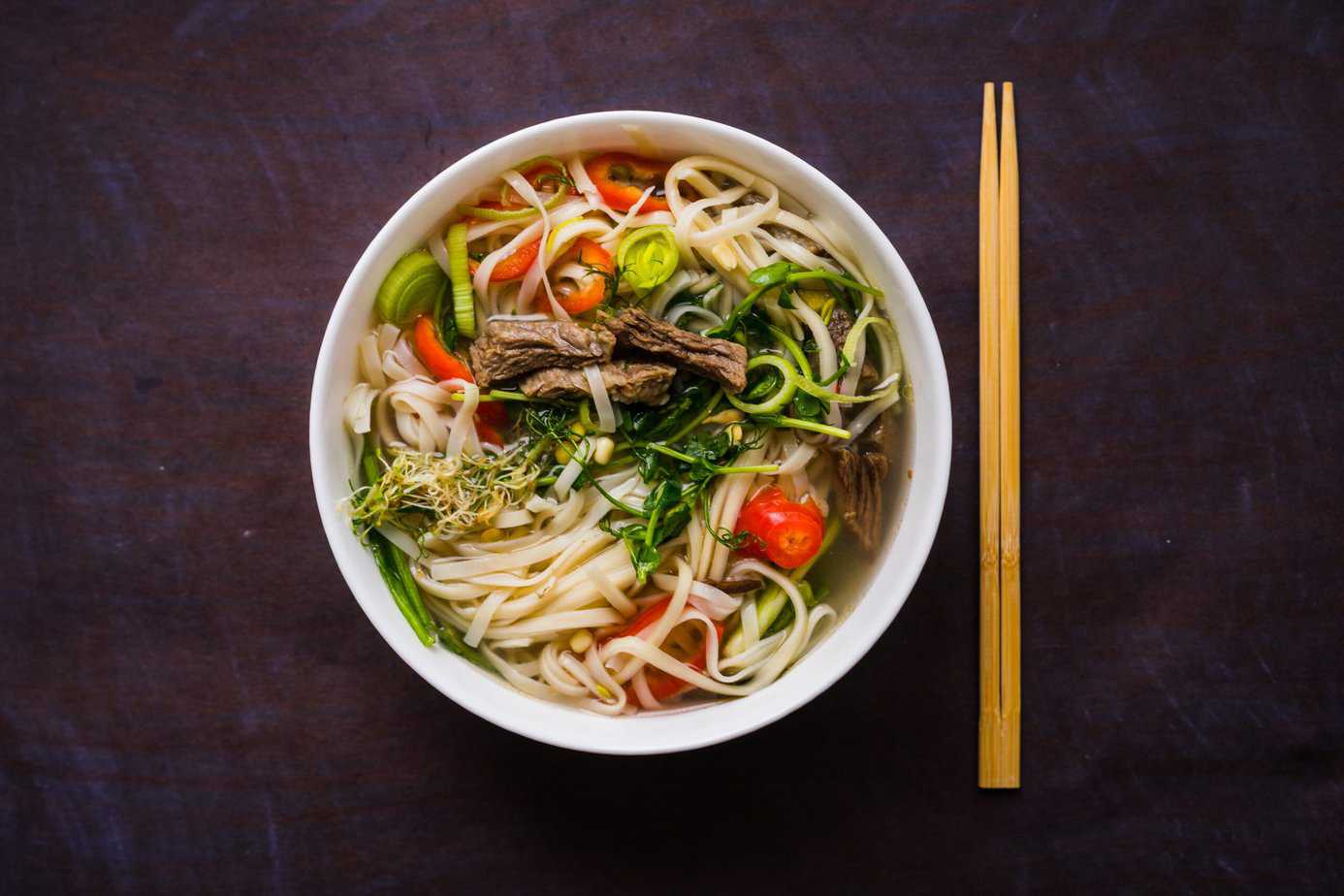 Are rice noodles low carb?
Rice noodles are not low carb or keto. They are made of rice flour. Rice flour is too high in carbs to fit into the low carb or keto diet.
If you are looking for a keto alternative to rice noodles, I suggest using kelp noodles. They work great in Asian dishes and I love the texture.
Are rice noodles Paleo?
No, rice noodles are not Paleo because they contain rice. Rice is not considered part of the Paleo diet.
Are there different kinds of rice noodles?
There are many varieties of rice noodles. Too many for me to include. Below are a few varieties of rice noodles:
Pad Thai Rice Noodles
Rice Vermicelli
Kway Teow
Rice Sticks
Chow Fun
Chee Cheong Fun
Silver Needle
Lai Fan
Make sure to read the ingredient label to check if each variety is gluten free.
I've really enjoyed adding rice noodles to my gluten free diet. I hope you try them out too as a gluten free alternative for pasta.
Are you curious about what food is gluten free?
DISCLOSURE: Not intended for the treatment or prevention of disease, nor as a substitute for medical treatment, nor as an alternative to medical advice. Use of recommendations is at the choice and risk of the reader. Ditch the Wheat is a participant in the Amazon Services LLC Associates Program. As an Amazon Associate I earn from qualifying purchases. I may receive monetary compensation or other types of remuneration for my endorsement, recommendation, testimonial and/or link to any products or services from this blog. I only endorse products that I believe in.
Carol Lovett is the founder of Ditch the Wheat and a Globe and Mail bestselling author of the cookbook, Ditch the Wheat. She has been eating gluten free since 2010. She loves all things food, natural living, and spiritual. She's also a reiki master and crystal healer.