Welcome to Ditch the Wheat! Before you view the recipe I need to make sure you are aware of this. I hear it all the time... You're asking me to give up bread... Even my type 2 diabetic neighbour refuses to give up bread... There's so many reasons to ditch the bread: - gluten - GMO wheat - simple carbs (that cause weight gain) BUT it's so comforting to bite into a soft piece of bread smeared with butter. What if I told you there's bread you can eat that is Paleo and Keto friendly.
--> CLICK HERE <--
I am so excited to be able to introduce the readers of Ditch the Wheat to my newest ebook, Real Food Slow Cooker Recipes! I have always been a huge fan of the slow cooker – it's arguably my favorite and most-used kitchen tool – and this cookbook is a true testament to everything your slow cooker is capable of.
Readers of Ditch the Wheat are no strangers to the slow cooker – Carol's Slow Cooker BBQ Ribs and Easy Shredded Chicken Taco Meat are old favorites of mine. But I hope Real Food Slow Cooker Recipes will teach even the most seasoned home cook a thing or two about the versatility of their slow cooker.
And to start your real food slow cooking journey, Ditch the Wheat readers are getting a special discount! Just use the code DITCH30 when you download the ebook and you'll get 30% off!
This recipe for Chorizo Spiced Pork is one of my personal favorites from the ebook. The blend of spices compliments the pork perfectly, and you can really dress up this dish however you like! One of the best parts? Leftovers!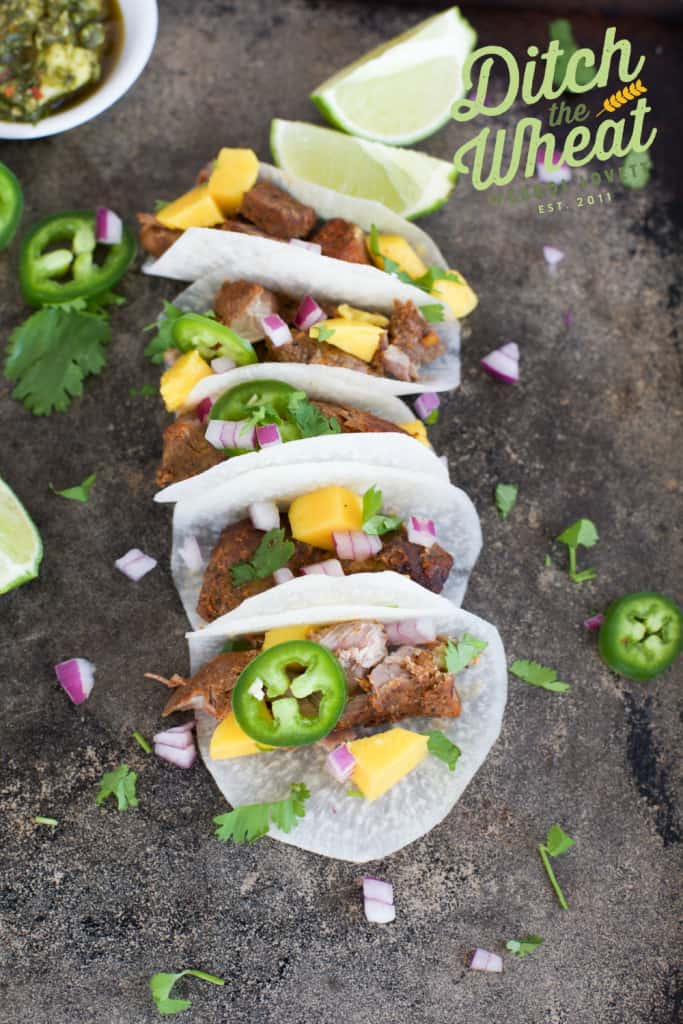 Chorizo Spiced Pork from Real Food Slow Cooker Recipes
Author: Arsy Vartanian
Serves 6
Ingredients
1 tablespoons chili powder
1 tablespoon smoked paprika
1 teaspoon ground cumin
2 teaspoons sea salt
1 teaspoon black pepper
PSssTTTT ~ I also want you to know about the KETO Bread Cookbook. You can eat bread that is Paleo and Keto friendly.
--> CLICK HERE <--
1 teaspoon granulated garlic
1⁄2 teaspoon ground coriander
1⁄2 teaspoon dried oregano
1⁄4 teaspoon red pepper flakes
1⁄8 teaspoon ground cloves
Pinch of ground cinnamon
1⁄4 cup apple cider vinegar
2 lbs. pork shoulder, cut into 1-inch cubes
Cooking Instructions
In a small bowl, mix the chili powder, smoked paprika, cumin, sea salt, pepper, garlic, coriander, oregano, red pepper flakes, cloves, cinnamon and apple cider vinegar.
Rub the pork with the spice blend. Make sure that it is well covered. Cover and refrigerate for at least one hour or up to overnight.
Place in the slow cooker and cook on low for 8 hours.
Chef's tip: Serve with thinly sliced jicama shells, topped with cilantro, jalapeño and mango.
You can find this recipe in Real Food Slow Cooker Recipes plus 70+ more clean eating slow cooker recipes.