Rocket Fuel Cafe Mocha Recipe
This post contains affiliate links including Amazon affiliate links.
Leanne's not just any holistic nutritionist; she's the holistic nutritionist that real people from around the world come to for real advice. Leanne's popular blog, Healthful Pursuit, is a unique collection of motivational guidance and easy-to-make recipes for women who want to create a liberated life on a restricted diet.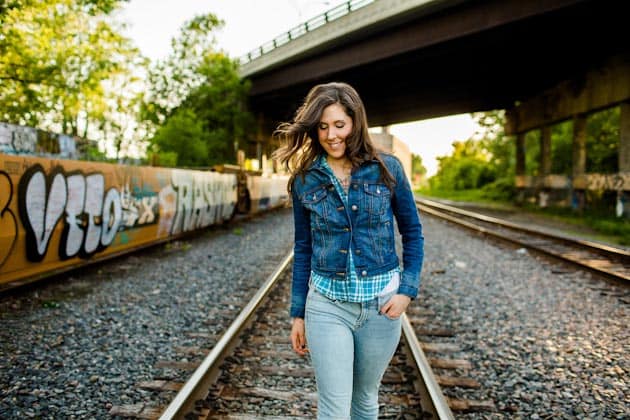 Hello Wheat Ditchers (read: kindred spirits). I'm so pumped to be here chatting with you about hacking your body to work in your favor.
Up until early last year, I was a cardio junky and straight-up advocate of living in a calorie deficit to achieve optimal health. I ate my vegetables, followed a clean eating style, but still didn't feel my best – foggy brain, frustrating weight gain and raging emotional highs and lows. Why? My metabolism was working against me. They like to do that.
How Your Metabolism Works
Think of your metabolism as an ever changing, reactive, highly attuned process that adapts to our surroundings to optimally care for our well-being. Problem with "optimal" is that sometimes the actions that you take the name of "health" send the wrong message to your metabolism.
Your metabolism has feedback mechanisms that allow it to adapt in an opposing direction, adjusting
hormones as it goes. Think of your metabolism as a teenager – whatever you tell it to do, it does the exact opposite.
Picture this – lets say that your body burns 2,000 calories every day. You decide that you want to lose weight, so you lower your intake to 1,500 calories per day; either by eating less or exercising more. You lose a bit of weight, but then you plateau. So, you lower your calories even more, workout more, and lose more weight.
What's happening here? Your metabolism is adapting to the environment it's in by adjusting its metabolic dials (these dials are your hormones) to decrease energy, increase cravings, and increase hunger. Everything you don't want it to be doing. This process, of adjusting the dials in the case of weigh loss with a calorie deficit without understanding what your hormones are doing, lowers your daily energy requirements. So, instead of your body requiring 2,000 calories per day, it now only requires 1,500.
The Problem With Conventional Nutrition
8 years in the nutrition industry, I've seen a lot of things. From the example above, if we look at dieting from a "less food is best" approach without taking into consideration what our cortisol, adrenaline, insulin and glucagon (hormones) are doing, this approach has the potential of throwing our hormones out of whack, damaging our metabolism and leading to cravings, hunger, energy output issues and more.
Problem is? This is exactly what we're told to do – eat less, exercise more. Restrict, workout, cardio, and calorie deficit. Just as we all look different on the outside, we all function differently on the inside. This varying function is our individual metabolism. While the eat less, exercise more approach may work for some people, it may not work for you.
The skill of determining what works for you and what does not, is the key to hacking your metabolism and gaining the ability to up-regulate your fat burning potential, once and for all.
What Your Body Is Telling You
Your body has an amazing feedback system in place to alert you of imbalances before they get out of hand. Many of the little symptoms and signs you receive on a daily basis is the result of your metabolism attempting to communicate with you.
Hunger

Energy

Cravings

Weight gain

Water retention

Sexual function

Mood

Digestive function

Menstrual function
These 9 markers are heavily tied to your metabolism and the function of your hormones. When we experience any of these, it's a sign that something needs adjusting.
Make Your Metabolism Work With You
There are 6 things you can start today to set yourself on the path of mastering your metabolism.
Respect the balance of internal (your body's signs) vs. external wisdom (health advice) and use both to fuel your understanding of your individual metabolism.

Use the signs that your body gives you as a guide. I like to keep a food journal to track how I feel after eating certain foods.

Realize what is throwing you off balance and correct it, starting small with suspicious foods.

Create a workout regime that works best for you. For me, this is a short-burst workout for optimal recovery, never running at a complete deficit so that my hormones remain balanced.
Create your eating style using internal and external wisdom. If you're loosing weight, it's working for you. If it's a struggle and willpower is being used constantly, it's not working for you. Play with different eating styles to find a system that works best for you and your body. And, be open to adjusting to fit your needs.
Be proactive by managing recovery, sleep and stress on a daily basis.
For me, following an eating style rich in nourishing fats has catapulted my health to new heights and allowed me to make the practice of hacking my metabolism so much easier.
I've prepared a free 13-page download for you – an introduction to my newest book, The Keto Beginning. I'm hoping it will serve as an introduction to eating this way and if it resonates with you and your individual metabolism, awesome!
And, to give you a taste of what could be ahead for you, here's a recipe that helps me hone in on my body's queues and allows me to begin the day completely symptom free.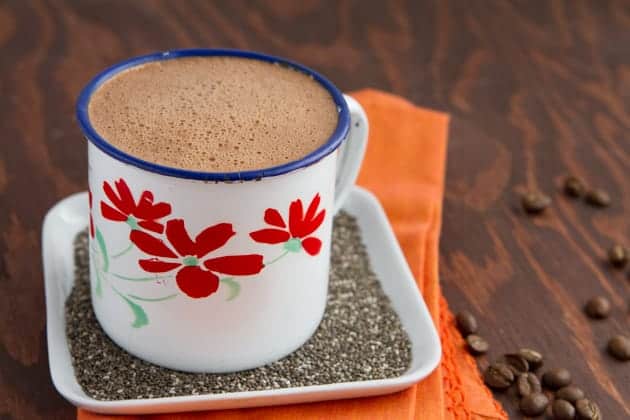 Rocket Fuel Café Mocha
Bulletproof-style coffee with a twist, chia seeds! Add chia seeds to your blended coffee to pump up your daily omegas, balance blood sugar and boost fiber intake.
Ingredients
Instructions
Brew

coffee,

add to the jug of your high-powered blender along with remaining ingredients and

Blend on high for 1 minute. Transfer to a cup and enjoy!
Yield: 1 serving
Rocket Fuel Cafe Mocha Recipe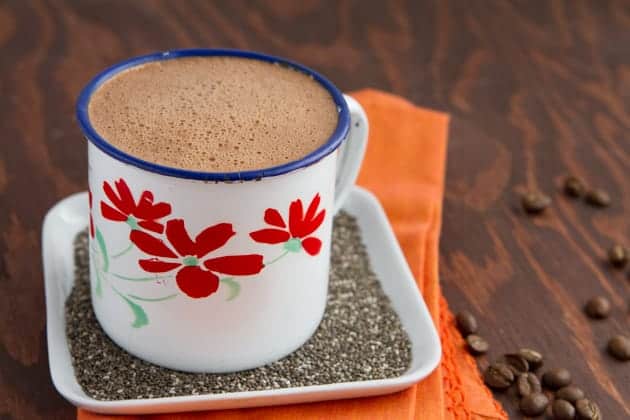 Ingredients
16oz. (2 cups) brewed coffee or tea, for a boost
3 tablespoons full-fat coconut milk, for foam
1 tablespoon cocoa powder, for chocolatey goodness
1 tablespoon chia seeds, for fiber + omegas
1 tablespoon MCT oil or extra virgin coconut oil for a happy brain
pinch vanilla bean powder or ¼ teaspoon alcohol-free vanilla extract, for flavor
4-6 drops alcohol-free stevia, for sweetness
Instructions
Brew coffee, add to the jug of your high-powered blender along with remaining ingredients.
Blend on high for 1 minute. Transfer to a cup and enjoy!
Leanne is a Holistic Nutritionist and food blogger in Calgary, Alberta, Canada. She helps people overcome food issues by giving them the tools they need to inject your life with happiness and healthfulness. Her mission is to help you fall in love with yourself. You can follow Leanne on her blog at Healthful Pursuit, on Instagram, Twitter, Pinterest and Facebook.
Grab your FREE Keto print cookbook –> HERE (just pay S&H)
Check out these other Keto friendly recipes!
25+ Dairy-Free Ketogenic Recipes