Welcome to Ditch the Wheat! Before you view the recipe I need to make sure you are aware of this. I hear it all the time... You're asking me to give up bread... Even my type 2 diabetic neighbour refuses to give up bread... There's so many reasons to ditch the bread: - gluten - GMO wheat - simple carbs (that cause weight gain) BUT it's so comforting to bite into a soft piece of bread smeared with butter. What if I told you there's bread you can eat that is Paleo and Keto friendly.
--> CLICK HERE <--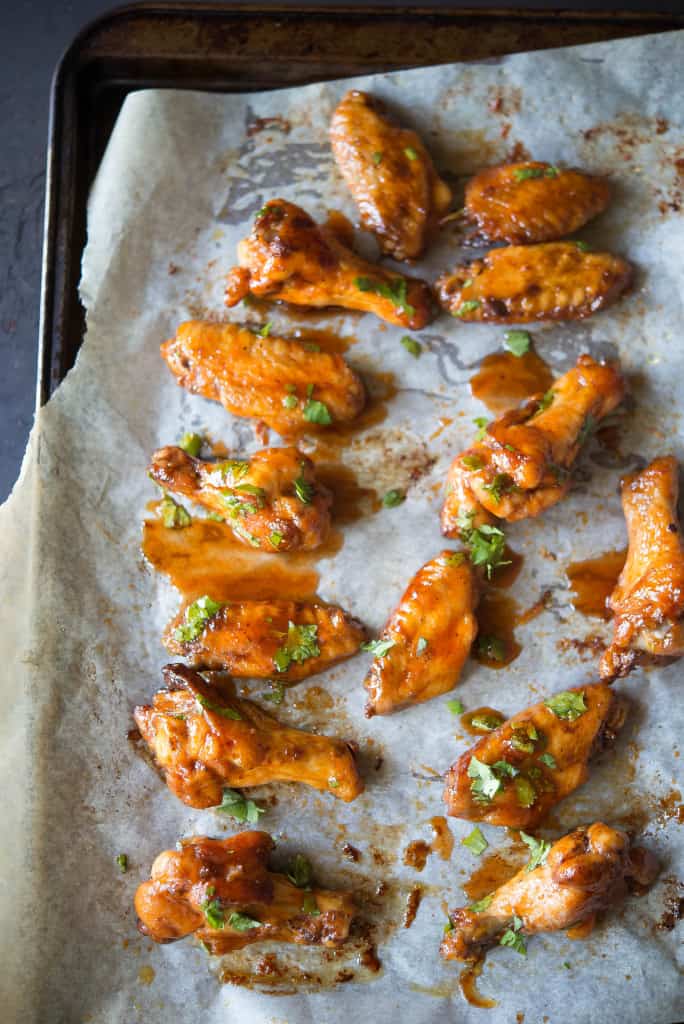 I make this recipe for Cilantro Maple Sriracha Chicken Wings all the time and then I say to myself, "this is soooooo good!  Must eat more…."
This is an exclusive sneak peek recipe is from my new cookbook, Ditch the Wheat, and it's become a weekly favourite for me.  Plus it's really easy to throw together.  I know it will be one of your go-to weeknight recipes.
I love scorching-hot sauces on my chicken wings—the kind where you know it's torture to take another bite, but you do it anyway because you love the taste. For this recipe, I used my favourite hot sauce, Sriracha, and sweetened it a little with maple syrup. The cilantro will help cool down your mouth.
p.s. I still make this even if I don't have cilantro on hand.  It's just soooo yummy!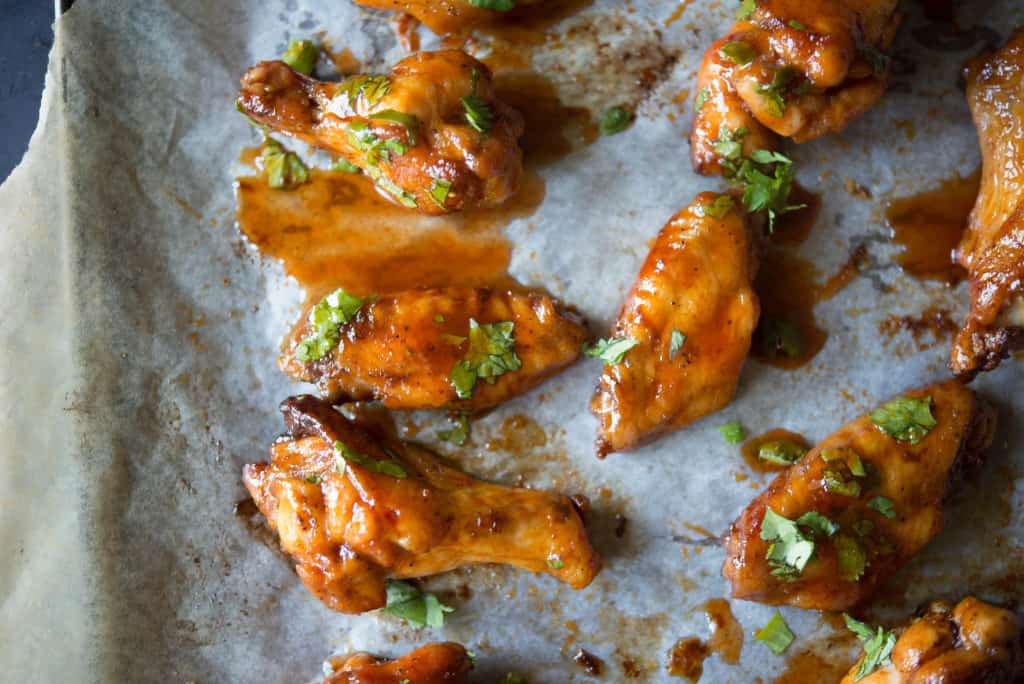 Cilantro Maple Sriracha Chicken Wings Recipe from the Ditch the Wheat Cookbook
Ingredients
For the spice blend:
1 teaspoon
garlic powder
1 teaspoon
paprika
1 teaspoon fine sea salt
1⁄2 teaspoon
cayenne pepper
1⁄2 teaspoon ginger powder
1⁄2 teaspoon ground back pepper
Chicken Wings:
28 chicken wing pieces (14 drumettes, 14 wing tips)
1⁄4 cup extra virgin olive oil
1⁄4 cup Sriracha sauce, homemade (page 96) or store bought
1⁄4 cup
maple syrup
1⁄4 cup chopped fresh cilantro, for garnish
Instructions
PSssTTTT ~ I also want you to know about the KETO Bread Cookbook. You can eat bread that is Paleo and Keto friendly.
--> CLICK HERE <--
Preheat the oven to 400°F. Line a rimmed baking sheet with parchment paper.
In a small bowl, combine the garlic powder, paprika, salt, cayenne, ginger powder, and black pepper.
Place the chicken wing pieces in a large bowl. Pour the olive oil over the wings, then sprinkle them with the spice blend. Toss to evenly coat.
Place the wings on the lined baking sheet and bake for 35 minutes, or until they are no longer pink inside and the juices run clear, flipping once.
Whisk together the Sriracha sauce and maple syrup in a small bowl. Place the cooked wings in a separate bowl. Pour the sauce over the wings and toss to evenly coat.
Sprinkle the wings with the cilantro and serve.
There's so many dinner ideas in the cookbook!  It's a general Paleo cookbook so you'll find a bit of everything like pizza, lasagna (no zucchini lasagna noodles!  ick!!!  Noodles are made with a dough), soup, baked goods, desserts, and a breakfast chapter.  This is a picture of just some of the other dinner recipes.
Left to right: Hearty Beef Stew, Swedish Meatballs, Apple Butter Ribs, Mango Prosciutto Grain-Free Pizza (nut-free pizza crust), Chicken Fingers, Creamy Tomato Mushroom Chicken Pasta, Beef Tongue Tacos, Lasagna with Grain-Free Noodles, Lemon Rosemary Roast Chicken, Smoky Chipotle Aioli Burgers with Crunchy Mango Slaw, Spinach Raisin & Pine Nut-Stuffed Pork Loin, and Spicy Vietnamese Rainbow Trout.
You can find the Ditch the Wheat cookbook in any major bookstore throughout North America or online on Amazon or Barnes & Noble.