This post contains affiliate links including Amazon affiliate links.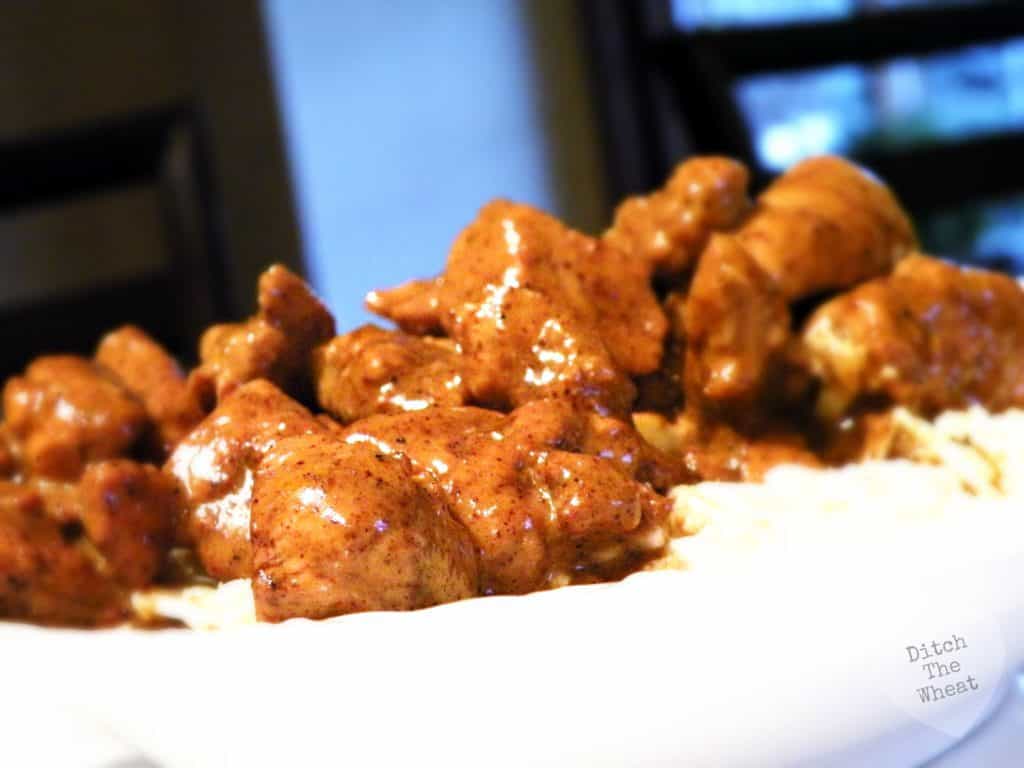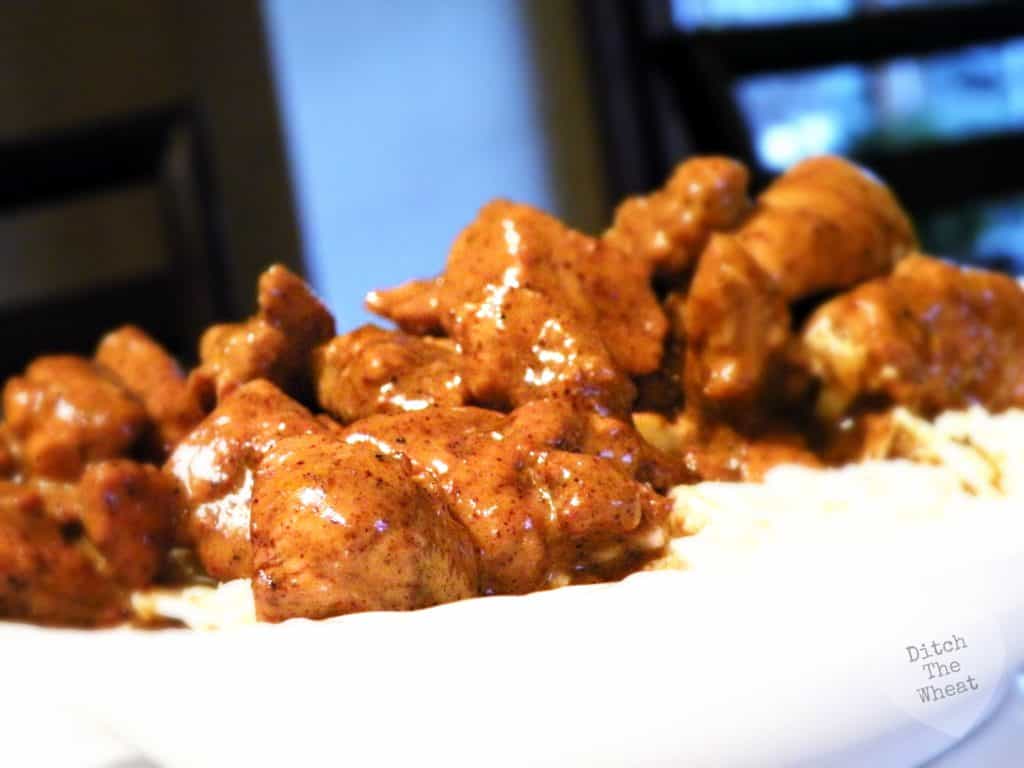 I've made this dish 3 times!Each time I keep making it spicier and perfecting the sauce:DTo be perfectly honest I don't remember how spicy or "curry-like" butter chicken is supposed to taste.I haven't had "real" butter chicken in at least 5 years.This recipe was inspired by Rob, a guy I share an office with.We often swap recipe ideas.Quiz each other on what we are making for dinner.Drool over it and brag about what we plan to make next.Rob makes butter chicken a couple of times a week.I asked like I usually do, "how do you make that?"I get out my bright pink post-it notes and write it all down!One problem, Rob never gives me measurements!He is one of those chefs who puts a little of this in and a little of that in.
Armed with my pink post-it note, I tried to make Butter Chicken, Ditch The Wheat style.Low Carb, Gluten Free, and low on dairy, if possible.I took out all of my spices and poured olive oil in the pan.The secret, according to Rob, is to put oil olive (or any cooking fat) in your pan and put your spices in then turn on the heat allowing the spices to warm up.I've been using this method for a few other things and I like the result.I sprinkled in my spices, stirred it into the oil, and turned on the heat.The aroma of curry took over the kitchen.I cooked my cubed chicken in the spices.Everything was going well.I was ready for the sauce.I used coconut milk and butter.Rob uses yogurt but you can also use heavy cream.Oh O!I was simmering the sauce, thinking I want it as thick as possible and I noticed the coconut milk was beginning to separate.The coconut milk evaporated leaving me with oil!In a panic I poured some more coconut milk in the pan.Whew, I saved it.The result tasted great but was very greasy.
The next two times I worked on the sauce and realized that even though it is called "Butter Chicken" my sauce was becoming greasy because of the added fat.When I tried the recipe without the butter the flavour did not change and zero grease! Although I had no intentions of making this recipe dairy-free it nicely ended up that way.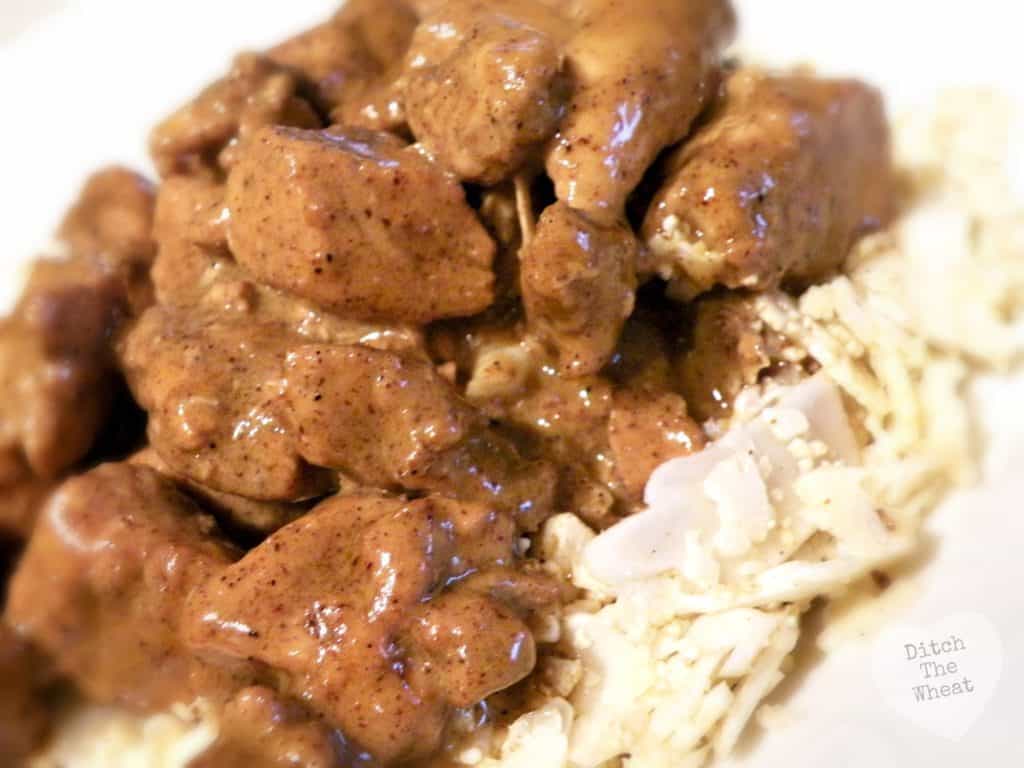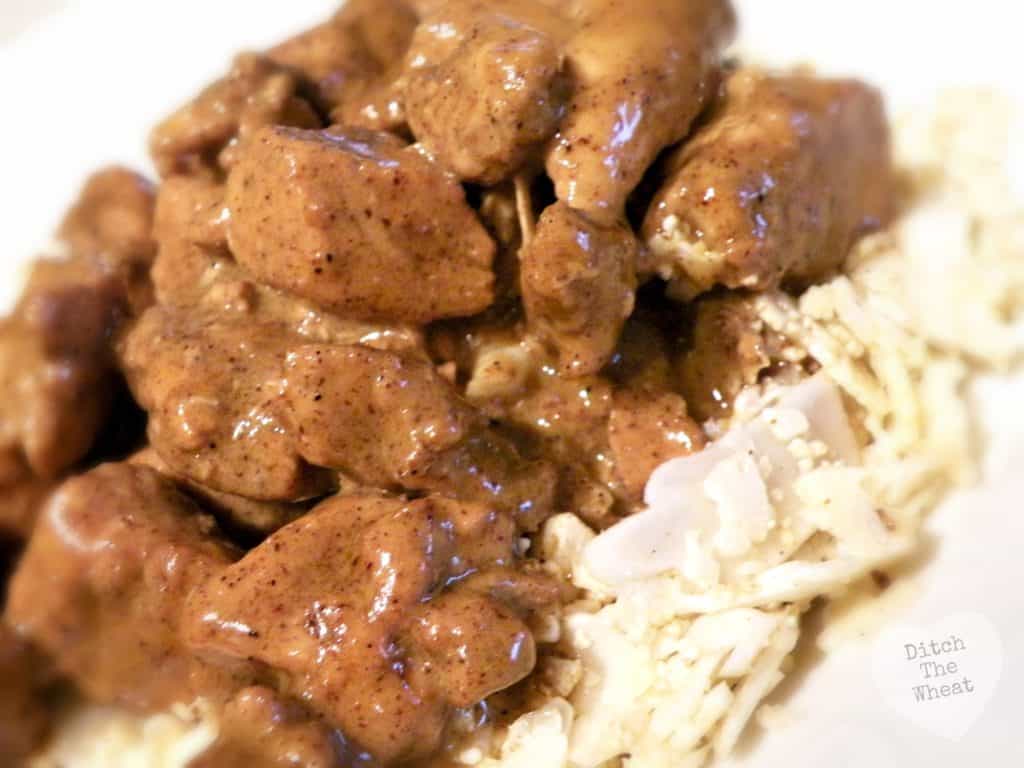 Here is the result….
Dairy Free Butter Chicken (Low Carb)
Author: Carol Lovett
Recipe type: Lunch, Dinner
Serves: 1
Ingredients
Extra Virgin Olive Oil (or any cooking oil)
½ tsp of Cayenne Pepper
½ tsp of Chili Spice
½ tsp of Onion Powder
½ tsp of Garlic Powder
Light sprinkle of
cinnamon
1 Cubed BUncoooked Boneless Chicken Breast
½ Cup of Full Fat Coconut Milk (I exclusively use Aroy-D Coconut Milk)
2 florets of Cauliflower
Instructions
Pour some oil in a frying pan. Mix your spices into the oil and turn the temperature to medium.
When you smell the aroma of the spices add the diced chicken. Reduce the heat to medium – low and let the chicken slowly cook.
When the chicken is cooked, pour in the coconut milk. Mix the coconut milk with everything in the pan.
Keep the temperature at med-low. Let the sauce simmer, reduce, and thicken.
While you are doing this rice your cauliflower. I used a mandoline to quickly "rice" my cauliflower. You can also use a grater or a food processor.
When you feel your sauce is thick enough pour all of the contents of the pan into a bowl.
Sauté the cauliflower rice in the same pan. Sauté until desired doneness. I like mine slightly cooked.
Put the cauliflower rice in a bowl and pour the butter chicken over it.
Eat and enjoy! Drink lots of water, it's spicy!
Notes
Works best if you use the brand, Aroy-D, coconut milk.
Dairy Free Butter Chicken
DISCLOSURE: Not intended for the treatment or prevention of disease, nor as a substitute for medical treatment, nor as an alternative to medical advice. Use of recommendations is at the choice and risk of the reader. Ditch the Wheat is a participant in the Amazon Services LLC Associates Program. As an Amazon Associate I earn from qualifying purchases. I may receive monetary compensation or other types of remuneration for my endorsement, recommendation, testimonial and/or link to any products or services from this blog. I only endorse products that believe in.