Dairy Free Bacon Spinach Dip
This post contains affiliate links including Amazon affiliate links.
Dairy Free Bacon Spinach Dip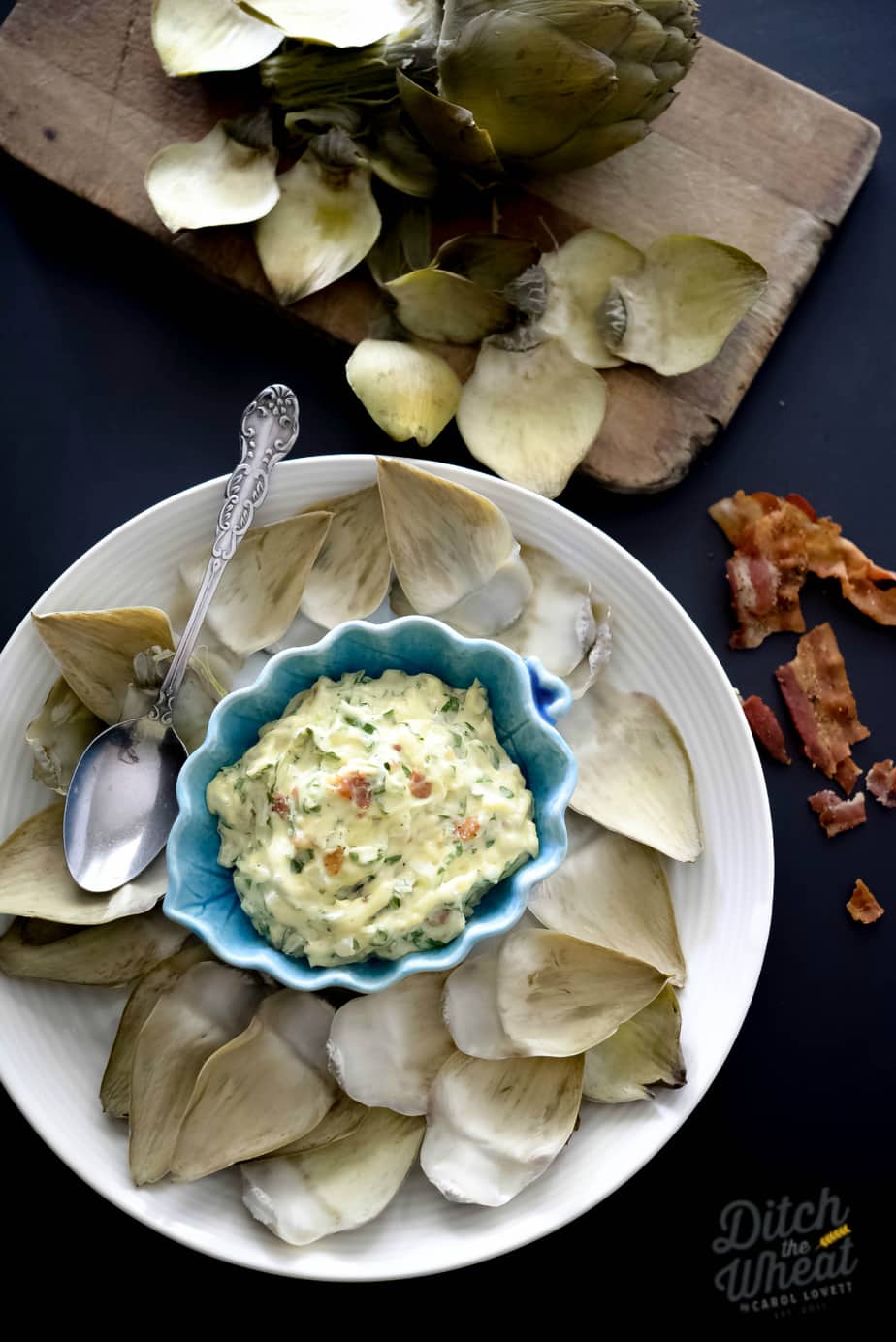 Here's another sneak peek recipe from my upcoming digital cookbook, The Grain-Free Snacker.
The cookbook contains a variety of sweet and savoury snacks. This is one of my favourite savoury appetizers. I love munching on this on a Friday night while watching a romantic comedy on Netflix.
This dip is amazing! I originally planned on pairing steamed artichokes with garlic aioli but as I was making the aioli, visions of bacon and spinach began dancing in my mind. These two ingredients really give this aioli a "wow" factor.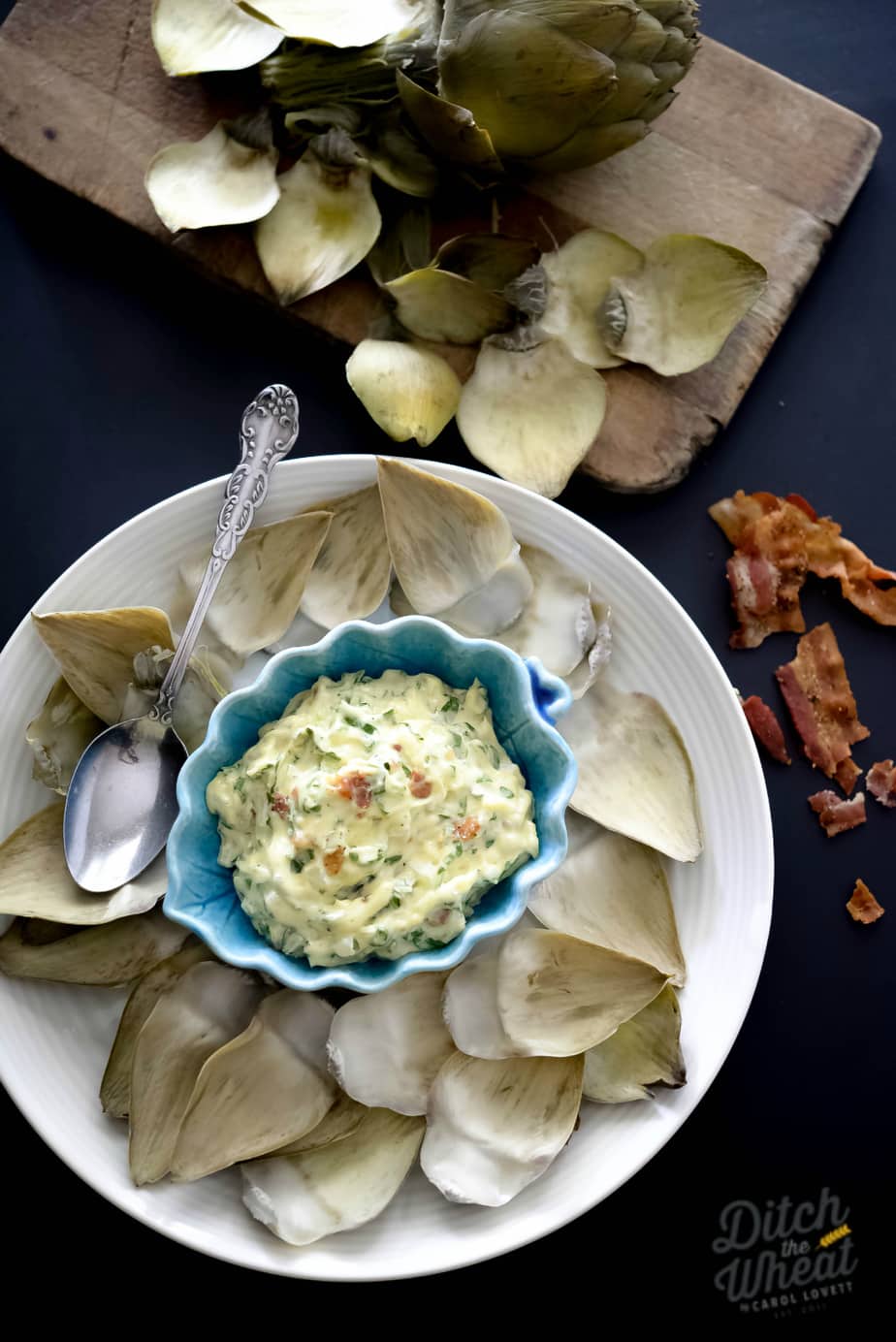 Ingredients for Dairy Free Bacon Spinach Dip:
Basic Aioli (see below)
garlic, finely chopped
finely chopped spinach
chopped onion
cooked bacon, chopped
How to make Dairy Free Bacon Spinach Dip
In a mixing bowl, combine Basic Aioli with the garlic, spinach, onion and bacon. Adjust for taste. Store in the fridge.
Steamed Artichokes Ingredients
1 fresh artichoke
1 teaspoon sea salt
How to make Steamed Artichokes
Trim the tips off the artichoke (optional).
Bring about a ½ inch of water to a boil in a pot deep enough to hold the artichoke standing up. Add the salt to the water.
Place the artichoke in the salted boiling water and cover the pot with a lid. Reduce the heat to maintain a steady simmer and cook for 20 minutes.
The artichoke is done when you can easily pull off a leaf. If this is too difficult, continue cooking, checking for doneness every five minutes. Depending on the size of your artichoke, this may take up to 40 minutes.
Makes about 1 ½ cups of dip
Ingredients for Basic Aioli
1 large egg yolk
1 tablespoon Dijon mustard
1 cup light extra virgin olive oil
How to make Basic Aioli
Using a blender or a powerful food processor, whip the egg yolk and mustard.
Turn the blender to the highest speed (I use the whipping cream speed) and SLOWLY add the olive oil one, drop at a time. Make sure it's mixed in before slowly adding more. Store in the fridge until ready to use.
Makes about 1 cup of dip
Another Dip Recipe
If you love snacks, here are more Paleo desserts and Paleo snacks! Make sure to check out my huge collection of gluten free dinner recipes.
If you loved this recipe, I would be really grateful if you can rate the recipe card and share any photos you took on Instagram using #ditchthewheat and tag me in your post or story.
Dairy Free Bacon Spinach Dip Recipe
Yield: 1 cup
Dairy Free Bacon Spinach Dip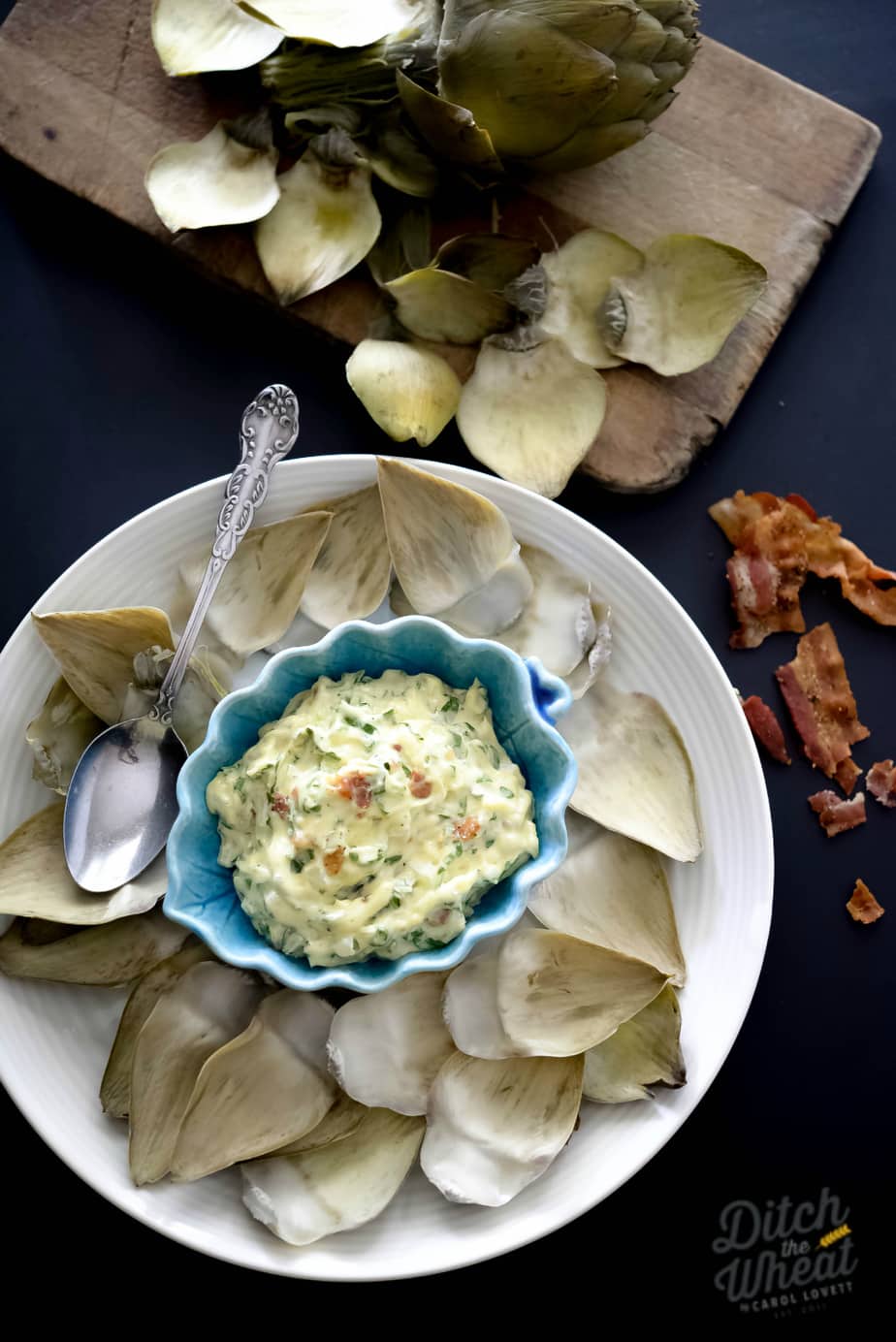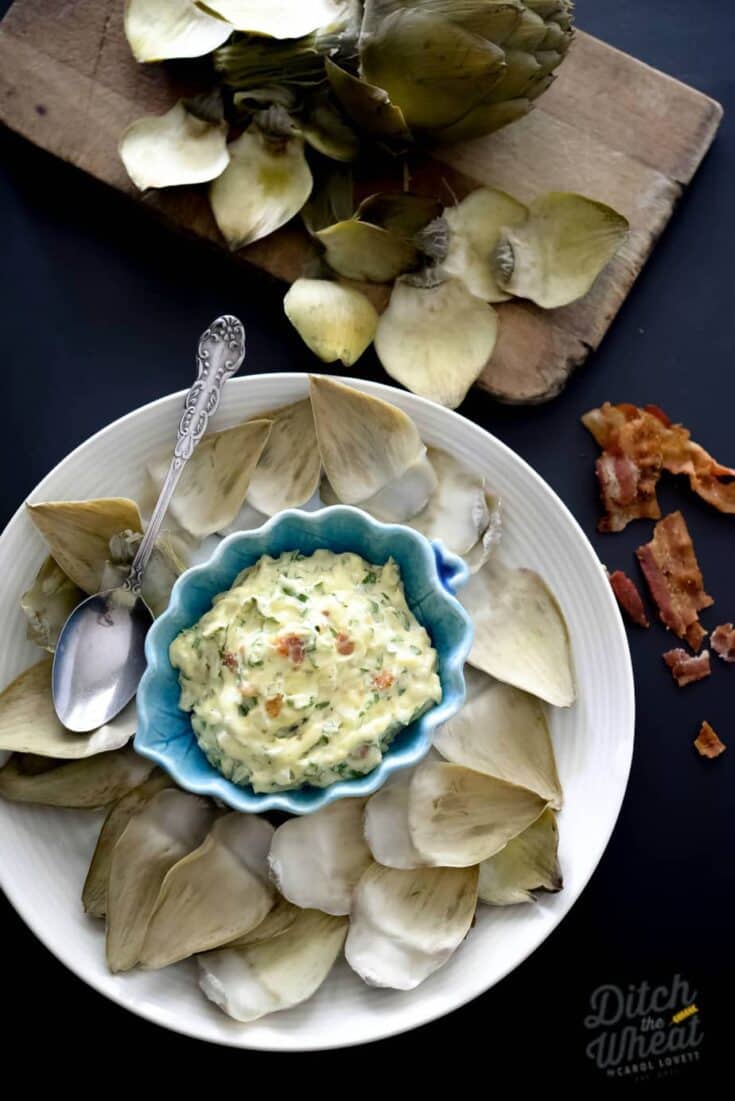 A creamy dairy free bacon spinach dip that's perfect for parties, game days, and late night snacking!
Ingredients
1 recipe Basic Aioli or 1 cup of mayo
5 small to medium cloves garlic, finely chopped
½ cup finely chopped spinach
¼ cup chopped onion
2 pieces cooked bacon, chopped
Instructions
In a mixing bowl, combine Basic Aioli with the garlic, spinach, onion and bacon. Adjust for taste.
Store in the fridge.
Notes
Serve with steamed artichokes, veggies, chips.... etc.
DISCLOSURE: Not intended for the treatment or prevention of disease, nor as a substitute for medical treatment, nor as an alternative to medical advice. Use of recommendations is at the choice and risk of the reader. Ditch the Wheat is a participant in the Amazon Services LLC Associates Program. As an Amazon Associate I earn from qualifying purchases. I may receive monetary compensation or other types of remuneration for my endorsement, recommendation, testimonial and/or link to any products or services from this blog. I only endorse products that I believe in.
Carol Lovett is the founder of Ditch the Wheat and a Globe and Mail bestselling author of the cookbook, Ditch the Wheat. She has been eating gluten free since 2010. She loves all things food, natural living, and spiritual. She's also a reiki master and crystal healer.