Is Fried Rice Gluten Free?
This post contains affiliate links including Amazon affiliate links.
Is fried rice gluten free? That's a mixed question and I'll show you where the gluten is usually hiding and give you some gluten free fried rice restaurant options to order from.
Are you craving some takeout but wondering what you can order based on your gluten food sensitivity or allergy?
Fried rice is a classic Asian dish. In my twenties, I used to order it weekly from the local Chinese restaurant.
The crispy rice, and large pieces of shrimp, always felt like comfort food to me. I always got it with sweet and sour chicken balls.
Back then, I didn't know these foods were contributing to my IBS.
What is fried rice?
Fried rice is a delicious Asian dish made of rice that is fried in a wok with a variety of vegetables added, and sometimes protein like eggs, shrimp, chicken, and or pork is mixed in.
Soy sauce is added for flavoring and it gives fried rice its iconic brown look. It might also include fish sauce and oyster sauce.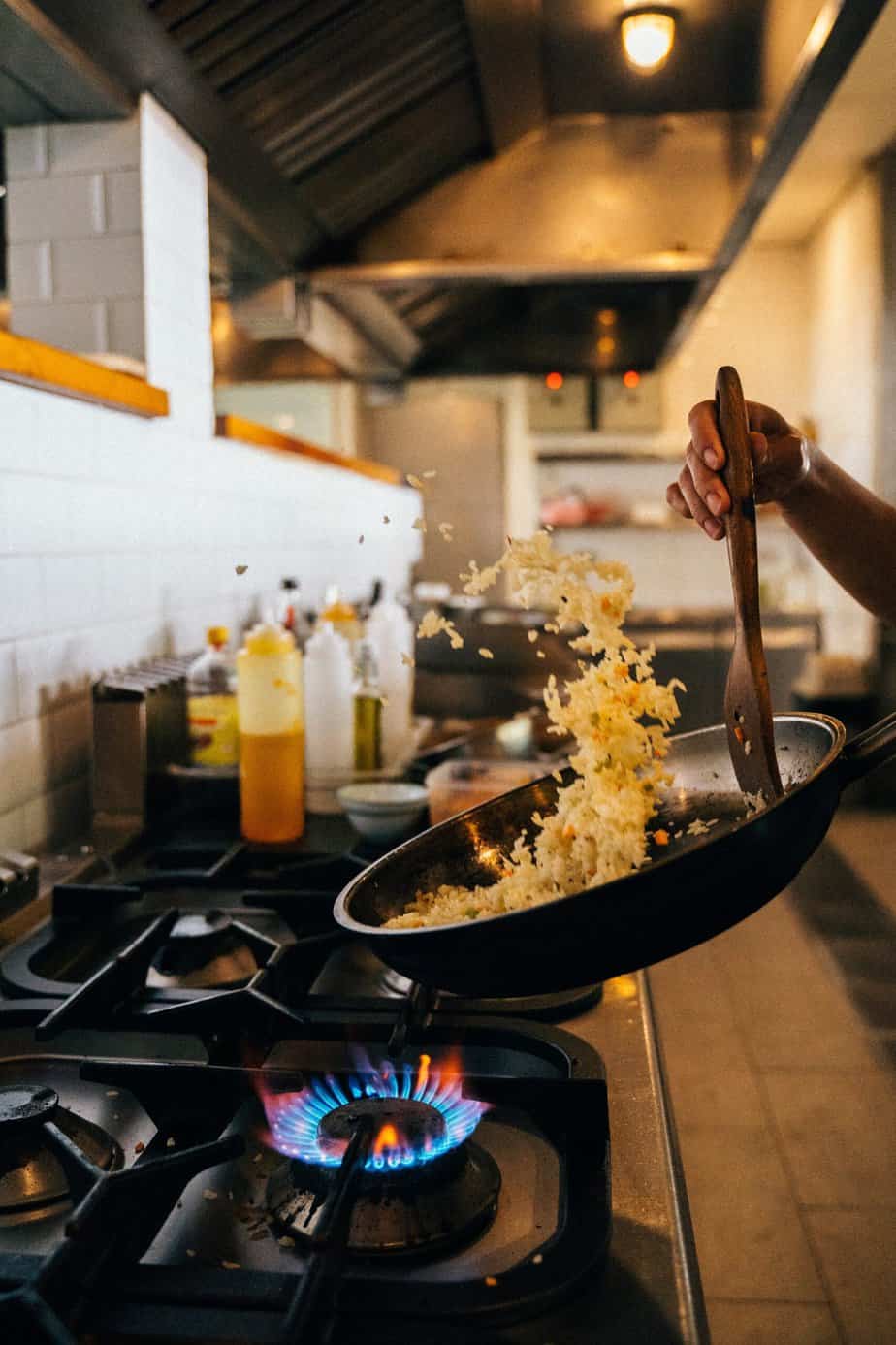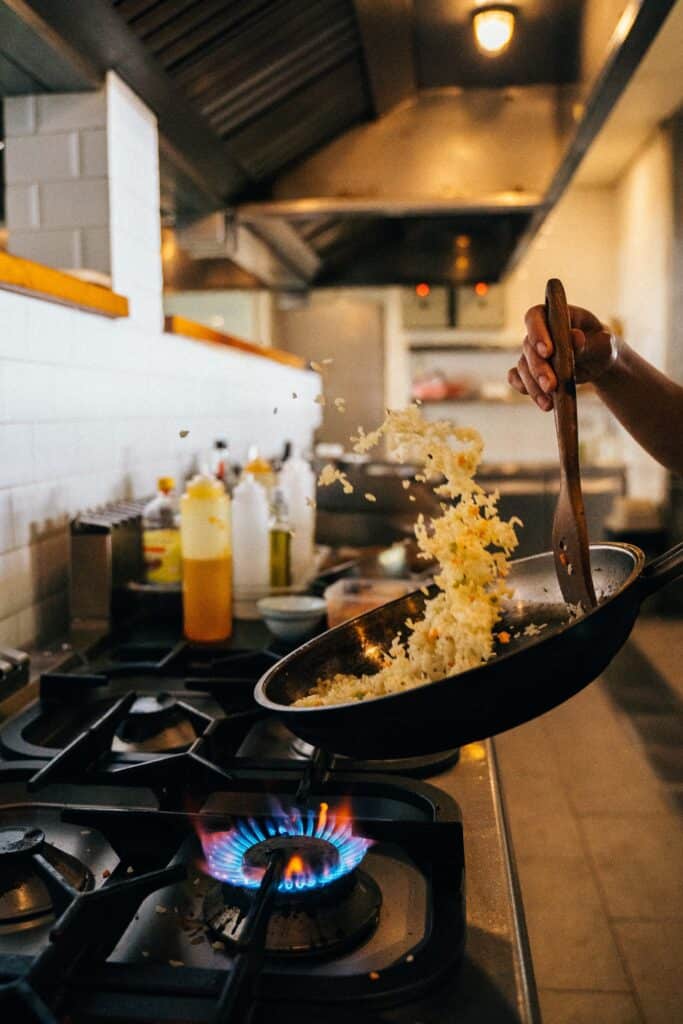 Is fried rice gluten free?
Fried rice is usually not gluten free. It depends on the ingredients used. The gluten is usally found in the soy sauce.
We'll look into this more below.
What are the main ingredients in fried rice?
Let's examine the main ingredients in fried rice and find where the gluten is hiding.
Fried rice starts with leftover cooked white rice. Add in some vegetables like diced carrots, onions, and peas.
Add a variety of cooked meat or just one. Diced chicken, pork, or shrimp are usually used.
A few eggs are scrambled in the center of the wok.
So far the ingredients do not contain gluten unless the meat was coated in flour.
Then you add the sauces. Fried rice may contain up to 3 sauces to make it tasty: soy sauce, oyster sauce, and fish sauce.
The added sauces are where the gluten is.
Does Chinese fried rice have gluten in it?
Yes, usually Chinese fried rice has gluten in it. The gluten is found in soy sauce, oyster sauce, and fish sauce.
Traditional soy sauce is naturally gluten free since it is made from fermented soy. Cheap soy sauce is made from wheat.
Fish sauce sometimes contains gluten. It depends on the brand.
Oyster sauce is made from oyster extract and wheat flour.
Is fried rice usually gluten free?
It is not safe for people with a gluten sensitivity or allergy to assume fried rice served at a restaurant or another person's home is gluten free.
The sauces that are added to fried rice usually contain gluten. This is why fried rice not gluten free.
Is Chinese takeout fried rice gluten free?
Most Chinese takeout fried rice contains gluten because they usually use cheap soy sauce and possibly fish sauce and oyster sauce, which all contain gluten.
Is fried rice gluten free at panda express?
No, unfortunately, fried rice at Panda express is not gluten free. Their allergen guide shows that the fried rice contains gluten.
Is Japanese fried rice gluten free?
No, Japanese fried rice is usually not gluten free. It contains soy sauce and some soy sauces contain gluten.
Is Thai fried rice gluten free?
No, Thai fried rice is not gluten free because it contains oyster sauce. Oyster sauce is not gluten free.
Gluten Free Fried Rice
You can make gluten free fried rice at home by using gluten free soy sauce, gluten free tamari, coconut aminos, or liquid aminos. If you add fish sauce it needs to be a gluten free brand. You would not add any oyster sauce.
Restaurants that offer gluten free fried rice
Be aware that the restaurants below cannot guarantee that their fried rice does not come into contact with gluten. Sorry, the list is short but I tried to find large chains instead of restaurants that only had a few locations.
P.F. Changs: They have a gluten free menu with many items to pick from
Are you curious about what food is gluten free?
DISCLOSURE: Not intended for the treatment or prevention of disease, nor as a substitute for medical treatment, nor as an alternative to medical advice. Use of recommendations is at the choice and risk of the reader. Ditch the Wheat is a participant in the Amazon Services LLC Associates Program. As an Amazon Associate I earn from qualifying purchases. I may receive monetary compensation or other types of remuneration for my endorsement, recommendation, testimonial and/or link to any products or services from this blog. I only endorse products that I believe in.
Carol Lovett is the founder of Ditch the Wheat and a Globe and Mail bestselling author of the cookbook, Ditch the Wheat. She has been eating gluten free since 2010. She loves all things food, natural living, and spiritual. She's also a reiki master and crystal healer.