This post contains affiliate links including Amazon affiliate links.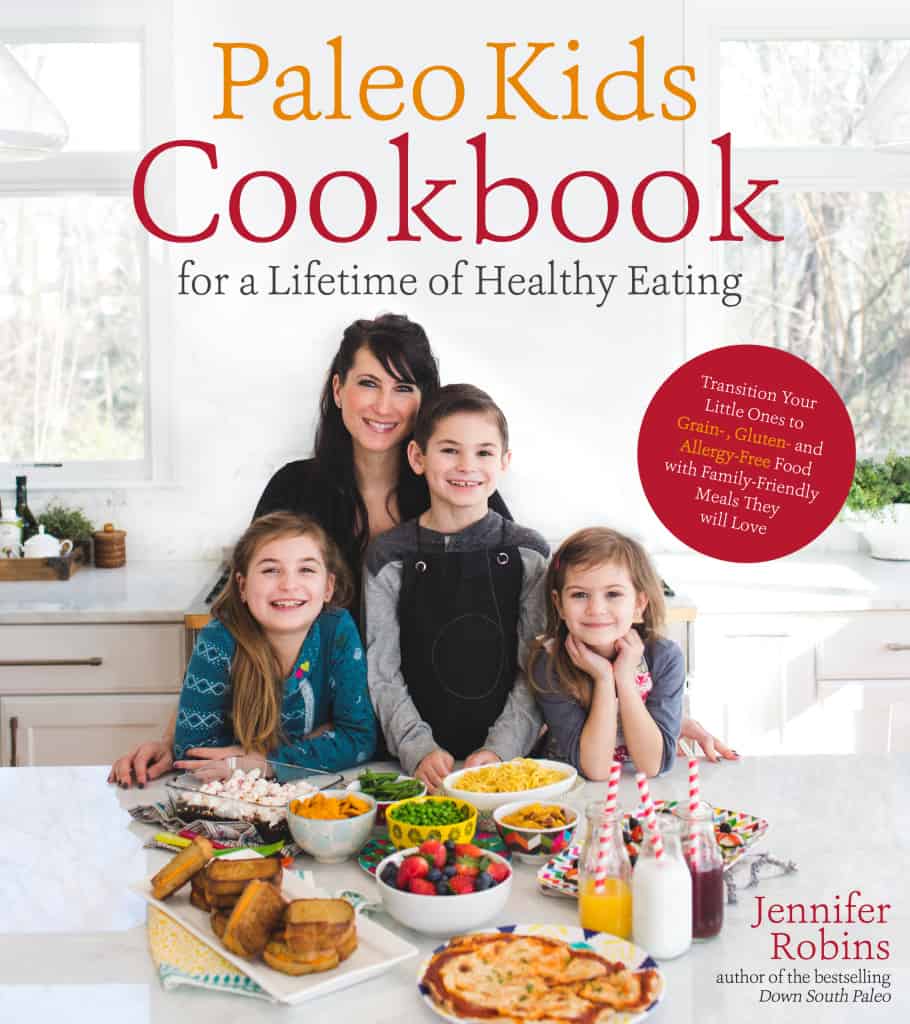 I wanted to share a Nut Free Granola recipe from The Paleo Kids cookbook I recently received.
Granola has oats in it which led a lot of Paleo people to make a Paleo version of it, which led to a lot of Paleo granola recipes that are very heavy in nuts.
My friend Jen has made a nut free granola recipe that is from her brand new cookbook, The Paleo Kids Cookbook, that contains ZERO nuts. Perfect for anyone allergic to nuts, kids who have to take nut free snacks to school etc.
The Paleo Kids Cookbook is perfect if you need ultra allergy friendly recipes. It is literally free of nuts, eggs, dairy and gluten of course!
It is filled with recipes that appeal to children (and adults too!) like:
pizza
cookies
waffles (remember these waffles are also egg-free and gluten-free so it's blowing my mind how she achieved this recipe!)
sandwich bread recipe and so much more
Nut Free Granola
GRAIN FREE, GLUTEN FREE, DAIRY FREE, NUT FREE, EGG FREE, SOY FREE
The great thing about grain-free eating is the versatility and magic of nuts behaving as grains. But sadly those with nut allergies become limited once more. I wanted to create a granola that was just as good in yogurt and in milk as it is alone as a quick snack. This one is both grain and nut free and is packed with lots of nutrients that both little kids and grown kids will love!
MAKES: 6 SERVINGS
1 cup (140 g) sunflower seeds (source here)
½ cup (59 g) toasted pumpkin seeds (source here)
¼ cup (42 g) flax seeds (source here)
½ cup (85 g) unsweetened flaked coconut (source here)
½ cup (93 g) unsweetened shredded coconut (source here)
2 tbsp (12 g) coconut flour (source here)
2 tbsp (14 g) sweet potato flour (source here)
¼ cup (60 ml) local honey (or you can purchase raw honey here)
2 tbsp (17 g) sunflower seed butter (source here)
½ cup (112 g) dairy- and soy-free chocolate chips (source here)
Directions:
Preheat the oven to 350˚F (175˚C) and line a large baking sheet with parchment paper.
Combine all the ingredients in a mixing bowl and then spread them out on the baking sheet.
Bake for 10 minutes, then redistribute the contents and bake for another 5 to 10 minutes, being careful not to burn.
Remove the baking sheet from the oven. Allow the granola to cool, then store in an air-tight container at room temperature.
Jen has directions for how to involve kids for each recipe:
FOR LITTLE HANDS: Allow your child to mix all of the ingredients by hand and then spread the mixture out onto the parchment-lined baking sheet. They can also help break the baked mixture apart into smaller clusters once it has cooled. Older kids may be able to complete the recipe start to finish with some supervision.
You can find The Paleo Kids Cookbook at any major bookstore in North America as well as on Amazon (click here).
DISCLOSURE: Not intended for the treatment or prevention of disease, nor as a substitute for medical treatment, nor as an alternative to medical advice. Use of recommendations is at the choice and risk of the reader. Ditch the Wheat is a participant in the Amazon Services LLC Associates Program. As an Amazon Associate I earn from qualifying purchases. I may receive monetary compensation or other types of remuneration for my endorsement, recommendation, testimonial and/or link to any products or services from this blog. I only endorse products that believe in.