The world is ending, so let's eat cake!
This post contains affiliate links including Amazon affiliate links.
I've been working on a dessert cookbook for six months.  I wanted to give you a product that was high quality.  I took my time to craft something that contained a few classics like macaroons but I also dived into recipes that I am known for: easy to make, innovative, and mostly budget friendly.
I had to pick a name for my book.  Each time I talked to someone I would basically say, "it is for someone on a grain free diet who wants to indulge a little".  Before I knew it I was referring to this massive project as "Indulge".
Six months goes by fast.  Recipe development for a book of 70 recipes really meant I made close to 200 different recipes.  Sometimes I was making five desserts in one day.  Each recipe that made the cut was tested by "regular" people.  By regular, I mean they don't eat gluten free.  I felt if my cakes, bars, cookies and pies could pass the panel of judges I used, you would love it too.  Trust me, sometimes I got a big thumbs down and other times it was like "where are the seconds?  I want more".
Indulge is written for someone starting their journey on a grain free diet.  The book starts off with chapters that talk about ingredients, how to properly store your ingredients, baking techniques, and substitutions.
Then the book gets into grain free desserts.
I didn't focus just on cake.  I made recipes for any sinful sweet indulgence you could think of.  I had a lot of fun eating them.  I'll walk you through my favourites from each section.
My favourite cake:
MmmmmMMmm Cake with Caramel Surprise
I couldn't stop eating this cake.  I cut up the cake into individual slices and froze it but this cake was always calling my name, "Carol eat me…"
Favourite Cookie:
Puffed Marshmallow Cookies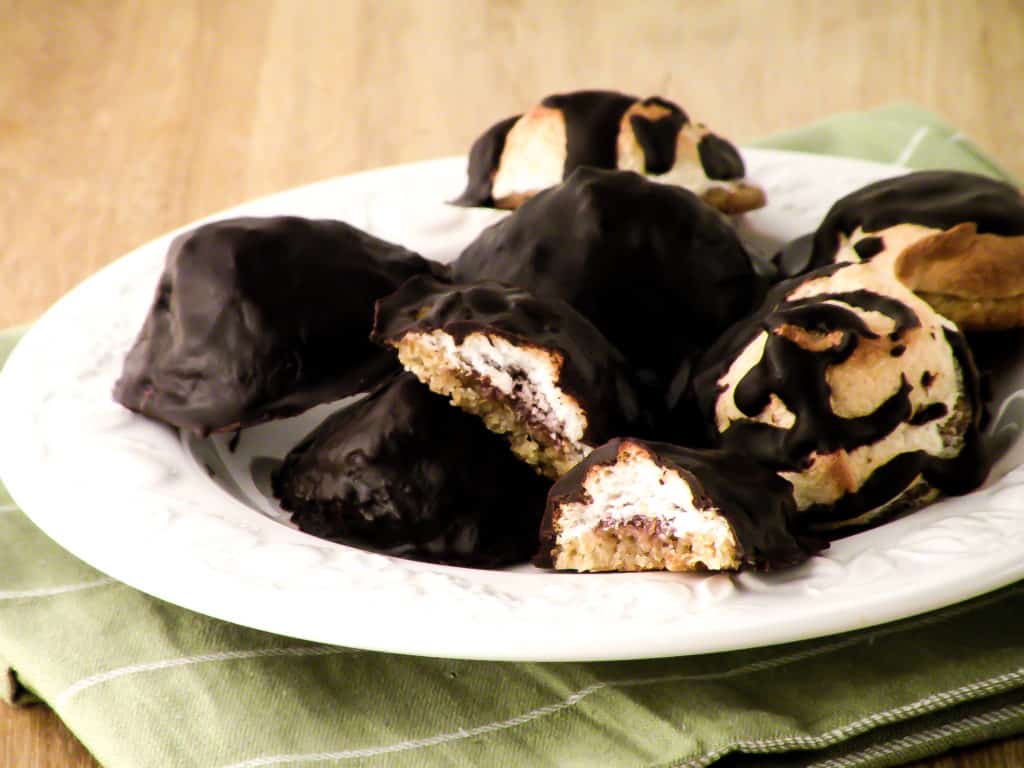 These cookies are nut free and ohhhh so delicious.  It is hard to stop at one cookie.  I feel out of all of my recipes for the book that this cookie would be the most kid friendly.
Favourite Pie:
Blueberry Mini Pies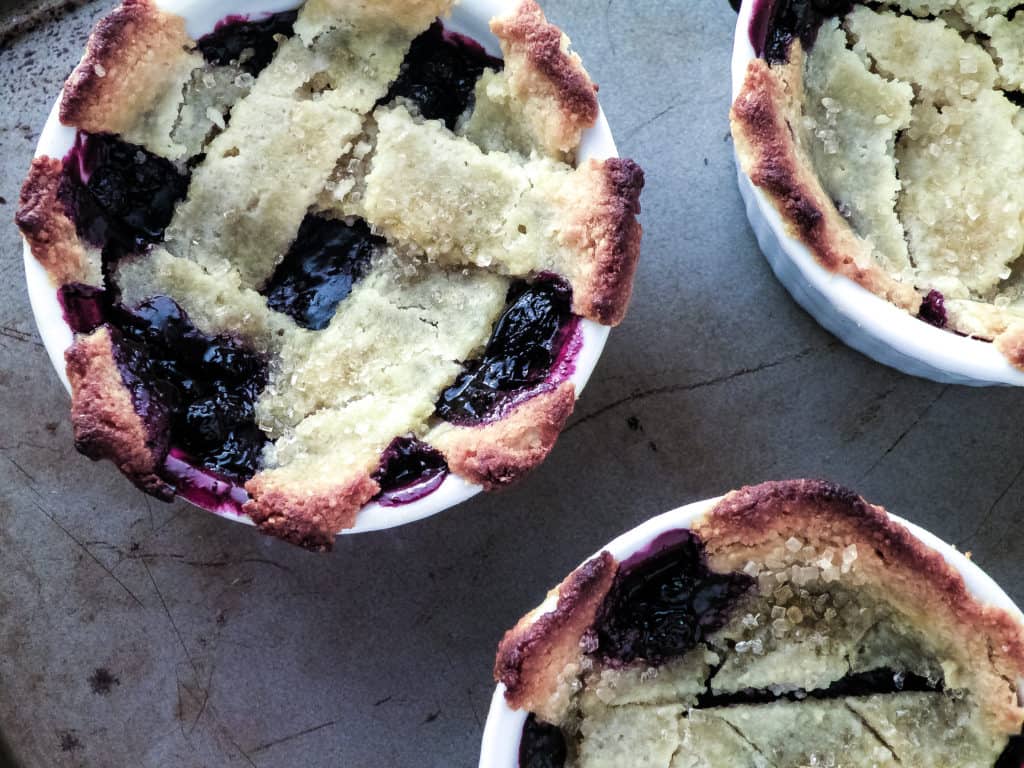 I like portion control and I know that many people on a grain free diet are the only ones in their family who eat grain free.  Most of my recipes reflect that.  Here is an example of a mini pie that is elegant enough to serve at a party but comforting enough to eat when you just want some pie.
Favourite Bar:
This is my all-time favourite chapter.  Every recipe is outstanding.  I can't pin point one recipe as the greatest because there are three that I can't wait to make again.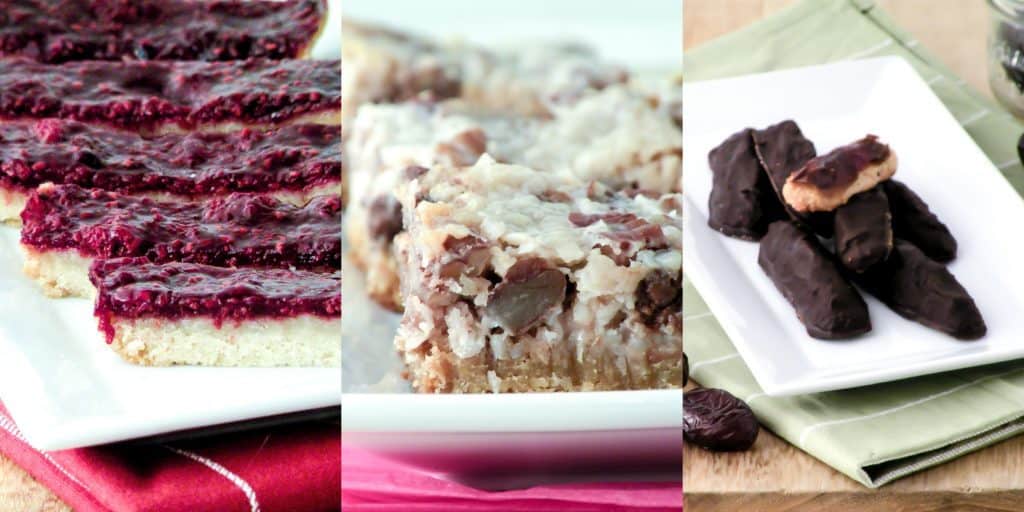 Raspberry Bars – You see the raspberry jam on top; I show you how to make it.

Magic Cookie Bars
Twix Bars
Misc – There are a few more chapters like Fair Treats where you have a selection of deep fried desserts, cupcakes & muffins, treats & cold treats.  Each of these chapters are outstanding but I'm going to pick one recipe that is so simple and yet I loved it sooooo much.
Turtles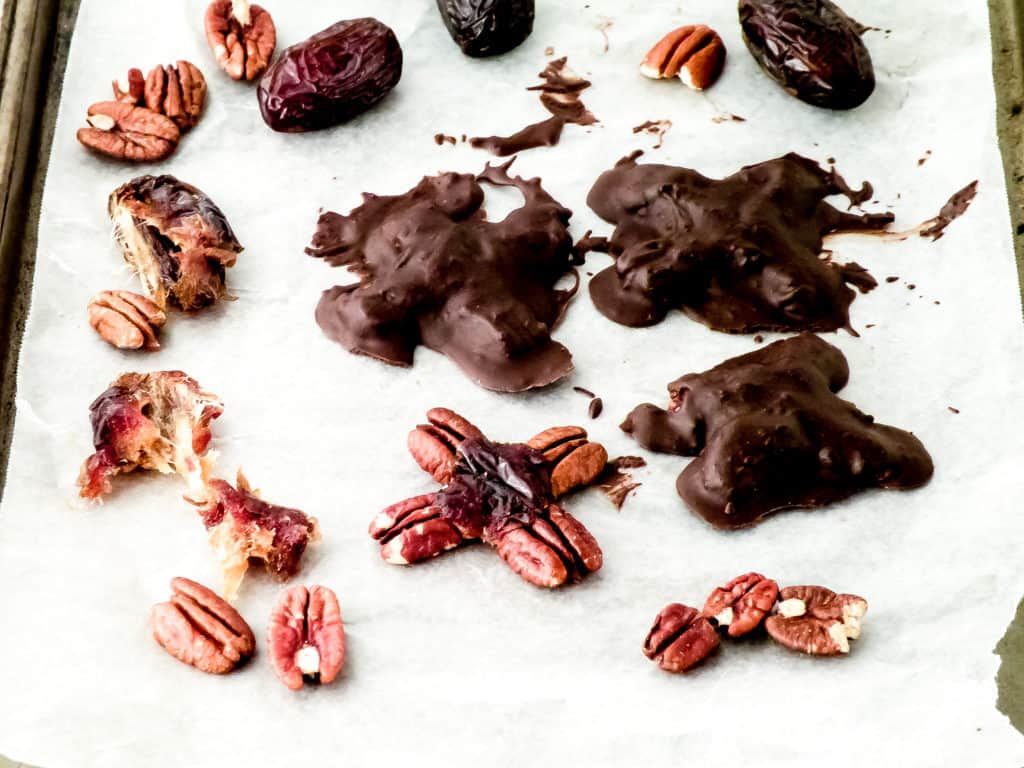 The book is currently on sale for the holidays.
;">

Don't forget to enter discount code:

HOLIDAYDTW to get 20% off!

Discount period is limited and ends Thursday, January 31st, 2013
Enjoy,
DISCLOSURE: Not intended for the treatment or prevention of disease, nor as a substitute for medical treatment, nor as an alternative to medical advice. Use of recommendations is at the choice and risk of the reader. Ditch the Wheat is a participant in the Amazon Services LLC Associates Program. As an Amazon Associate I earn from qualifying purchases. I may receive monetary compensation or other types of remuneration for my endorsement, recommendation, testimonial and/or link to any products or services from this blog. I only endorse products that believe in.