Welcome to Ditch the Wheat! Before you view the recipe I need to make sure you are aware of this. I hear it all the time... You're asking me to give up bread... Even my type 2 diabetic neighbour refuses to give up bread... There's so many reasons to ditch the bread: - gluten - GMO wheat - simple carbs (that cause weight gain) BUT it's so comforting to bite into a soft piece of bread smeared with butter. What if I told you there's bread you can eat that is Paleo and Keto friendly.
--> CLICK HERE <--
I'm thrilled to do this guest post for Carol. I've been a huge fan for a long time, so this is such an honor to be a part of her inspiring Ditch The Wheat site. Our goal from the beginning at PaleoNewbie.com has been to encourage everyone to eat real food, and reward those who do with some great-tasting paleo and gluten-free recipes. We try to make paleo cooking as quick and easy as possible, and come up with gluten-free versions of dishes you might have enjoyed in the past that don't taste like something's missing from the new "healthy" version.
I know frittatas have been done by just about everyone, but I wanted to share my favorite version with you. I really like this one because there are many people who just can't tolerate dairy. And let's face it, lots of people will say, 'What's a frittata without the cheese?' Well for this dairy-free frittata recipe, I added full-fat coconut milk to give the eggs that creamy texture I know you're looking for in the very first bite. I also added zucchini and red bell pepper for a sweet, peppery zip. The result I think is amazing! This recipe is so easy, looks beautiful, and practically guarantees you huge kudos from everyone around the breakfast table. And we all love that, right? 🙂 If you're cooking for just 2 or 3 people, this recipe is perfect because the leftover slices can be reheated and served for another wonderful breakfast, brunch or even lunch the next day. Hope you try this little gem. I'm sure it will become a new breakfast favorite!
PSssTTTT ~ I also want you to know about the KETO Bread Cookbook. You can eat bread that is Paleo and Keto friendly.
--> CLICK HERE <--

PALEO BACON ZUCCHINI & RED PEPPER FRITTATA
Ingredients
8 ozs of bacon, cooked and chopped
1 red bell pepper, diced small
1 medium zucchini, grated (leave peel on if desired)
1/2 medium onion, diced small
6 eggs, whisked
1/3 cup full-fat coconut milk
1 tbs of
Italian seasoning, dried
Instructions
Cook bacon and set aside
Preheat oven to 375-degrees F
Dice onion and bell pepper
Grate zucchini and blot with paper towel to remove excess moisture
In a medium bowl, whisk eggs, coconut milk, and seasonings together
In a 10-inch oven-safe skillet on medium heat, sauté onions in 2 tbs fat (we used bacon fat) for about 4 minutes, then and add the red peppers and sauté for one more minute
Add cooked bacon to skillet
Add shredded zucchini to the mixing bowl with the eggs, stir, and pour into skillet
Continue to cook on stovetop about 1-2 minutes – just until mixture begins to set around the edges
Transfer skillet to the preheated 375-degree oven
Bake about 15 minutes, or until eggs are cooked through
For a slightly browned top, move skillet to top rack and broil for 2-3 additional minutes
Transfer to serving plate, slice and serve
Enjoy,
Trina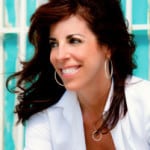 Trina blogs at Paleo Newbie.  Trina is an Italian girl who loved her pastas and panini.  All that changed when her husband suggested they try the Paleo lifestyle. He's obviously not Italian.  So she said arrivederci to the primavera, and hello to the Paleolithic.  Her site is about her new adventures inside the caveman's culinary world. She's on a mission to create the best-tasting recipes she can that stick pretty close to the paleo rulebook.