This post contains affiliate links including Amazon affiliate links.
I was recently contacted by Jim at Paleo Diet News.  He wanted to interview me about my story, Ditch The Wheat, and tips for readers & viewers.  I was so excited to do it.  It was my first video interview and it was a lot of fun.  My hardest part was finding a peaceful, quiet, comfy spot to film the interview.  After trying the living room (too dark), the kitchen (not quiet enough), the back porch (too much sunlight), I finally settled on the front porch (just perfect). Here is the interview!  I hope you enjoy it:D  Click on the picture to view.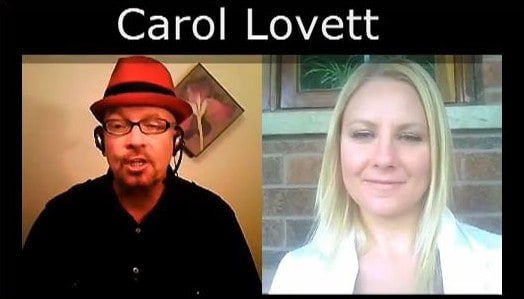 I forgot to add all the helpful tips I usually tell people.



So here it goes:
Tip 1 ~ Never stop eating your favourite foods!  Yes, you heard me, NEVER stop!  Do not stop eating pizza, chips, and cookies just use better ingredients.  For example, pizza made with an almond flour crust tastes amazing.  Chips made from kale is a tasty snack (or try my Doritos recipe), and cookies can be made from a variety of nut butters, and almond flour too.  *I'll be sharing my cookie recipe soon.
Tip 2 ~ Don't go into such a unique lifestyle blindly.  What I mean by that is do your research.  When my doctor first told me to stop eating wheat I went into ketosis and I wasn't warned that would happen.  Ketosis is a wonderful thing.  Your body switches from using carbs as your energy source to using fat = huge improvement in energy.  The transition causes "flu" like symptoms for about a week.  My first few days I felt terribly sick as my body was going through the transition.  Your body not only switches fuel sources but it detoxes during that first week.  I had a terrible headache, I was peeing constantly, and I was shaking a little.  With those symptoms, I naturally freaked.  A few days later I was wandering around a thrift store and I found an old Atkins book for $1!  I bought it and read it within two days and understood what was happening and the action plan to follow.  I educated myself about eating low carb/gluten free through that book, medical studies (google scholar), and websites/blogs.
Tip 3 ~ Get a support group.  I never understood the purpose behind support groups before.  I never felt I needed one.  Since I was using the Atkins book I ended up on the Atkins facebook page.  The group was a lifesaver.  I asked questions and they were immediately answered by someone or the moderator.  I still go on the Atkins facebook page, and my new favourite IPMG (International Paleo Movement Group).
Tip 4 ~ Don't have unrealistic expectations.  If you are eating low carb/gluten free for weight loss purposes you will probably lose weight just don't expect to lose 50 pounds in 3 months.  I lost 15 pounds in the first 2 months (a lot of water) and then 1-2 pounds a month after that.  Often I would go months without single pound lost, but wait, in those non weight loss months I experienced inches lost, and greater muscle tone.  In fact, since adding consistent exercise to my lifestyle I have gained weight but lost inches.  Don't wrap up your results in pounds lost.
Tip 5 ~ It's a lifestyle.  This is the most important tip.  People get angry over this comment but I'm going to say it.  People who cheat on a regular basis, ie Sunday is cheat day, have not made it a lifestyle.  You make the conversion to viewing it as a lifestyle when you take the time to look up gluten free/low carb recipes like chocolate cake, or gluten free/low carb donuts instead of eating the other version when you are tempted.  When you make it a lifestyle your way of eating becomes effortless and second nature.  You stop the yo-yo dieting.  Your relationship with food will take on a new meaning. Through your lifestyle journey, take it as an opportunity to take steps to become the best you, you can be. Enjoy,
DISCLOSURE: Not intended for the treatment or prevention of disease, nor as a substitute for medical treatment, nor as an alternative to medical advice. Use of recommendations is at the choice and risk of the reader. Ditch the Wheat is a participant in the Amazon Services LLC Associates Program. As an Amazon Associate I earn from qualifying purchases. I may receive monetary compensation or other types of remuneration for my endorsement, recommendation, testimonial and/or link to any products or services from this blog. I only endorse products that believe in.