This post contains affiliate links including Amazon affiliate links.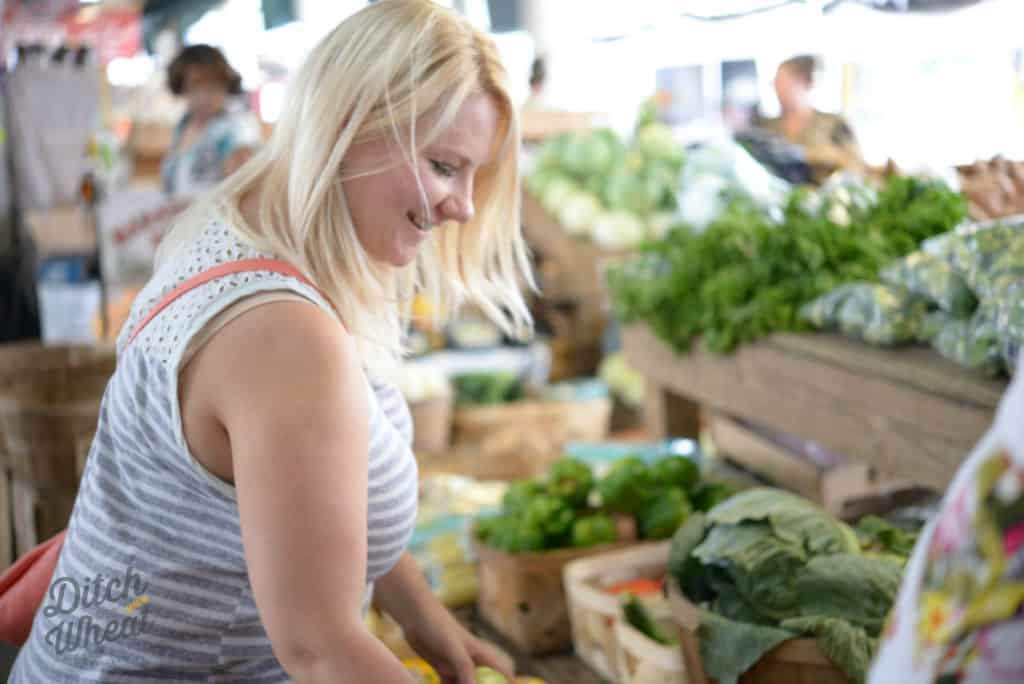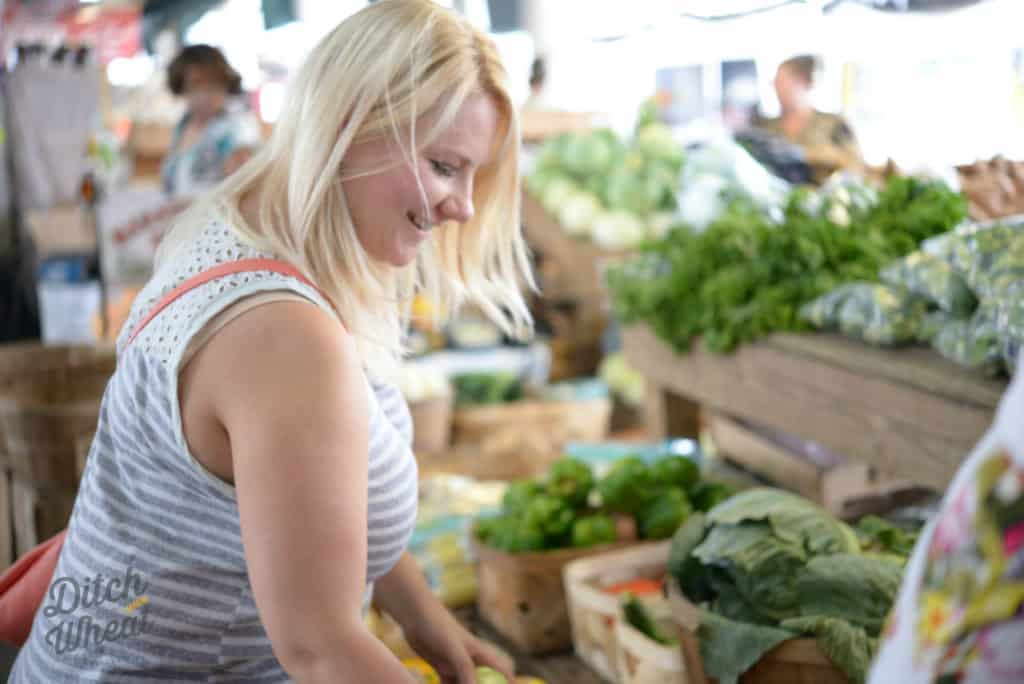 The number one complaint I hear from readers is that eating Paleo is too expensive.  I don't blame them for thinking that.  I see newbies immediately post pictures of their grocery store haul and it looks a little something like this…
Bacon, grass-fed beef burgers, Larabars, Honeyville Almond Flour, pre-chopped fresh organic fruits & vegetables, cookies and more snacks with the Paleo approved label on them and some more meat.
I think to myself, of course it's expensive if you're buying all of this plus you're buying it already chopped, washed, made into burgers etc.  You're buying convenience and then complaining Paleo is expensive.
Here's some Tips to Save Money
Free-range eggs – I used to use Kijiji and Craigslist to locate hobby farmers in my area selling free-range eggs.  Currently I buy my eggs at the cutest little health food shop in the village by my house and they source them from local farmers.  Farmer's markets also sell free-range eggs from pastured hens and you can ask the farmer what the chickens ate.  It is common for chickens to get supplemented with some kind of feed.  I always find the eggs I purchase this way are $4 CAD verses $8 in the grocery store for eggs that are not actually free-range.
Meats – The cheapest way is to find a farmer by searching online and buying through them a whole/half/quarter cow/pig/lamb etc.  You'll get the cheapest price per pound by doing this.  In Southern Ontario it's still not common to see grass-fed beef or pastured pork in the grocery stores but in the USA you can easily find some of these higher quality meats in Whole Foods, Trader Joes, and Publix.  Another great option is to purchase them at your farmer's market.  Even Toronto's largest farmer's market, St. Lawrence Market has a few vendors who sell them.  My last meat purchase, a couple of my city friends bought 1/6th of a young cow to share.  It was perfect for us since we couldn't afford a larger portion on our own but together 3 of us split half of a cow.  I still buy the organic option for a lot of my meat.  Don't beat yourself up if grass-fed and pastured meat is outside of your budget, it's beyond my budget too most of the time!
Seafood – I don't live by an ocean so I buy fresh and frozen seafood from my grocery store.  I look for wild seafood.  The only "farmed" seafood I buy is shellfish like mussels, oysters, clams etc.   I often wait for shrimp to go on sale and then buy a larger quantity and keep it stored in my freezer.
Vegetables and fruits – purchase these at your local farmer's market.  Organic is preferred and you can also use the dirty dozen list to prioritize which items to buy organic.  It's always cheaper and more fun to purchase these at the farmer's market. It's all seasonal produce and local.  You get to know your farmer and you can drive him/her crazy with questions about how they grow their food.  I actually find how they farm very interesting.  Also consider planting a garden.  My family did that this year and we can't wait for our harvest.  Don't forget a CSA is another great way to get organic fruits and vegetables and sometimes the farmer sells other items like eggs and dairy.  You can find a CSA in your area by searching on the internet, "(name of city) CSA".
Dairy – Dairy is a gray area in Paleo but let's be honest most people LOVE to eat it.  I love higher quality dairy and to me it's a traditional food and a health food.  Kerrygold is the brand I have access to and I purchase their cheese.  I have seen raw grass-fed cheese at larger farmer's markets in Southern Ontario.  If you are looking for raw grass-fed milk look up your local WAPF chapter and they can point you to a farm they trust.  Once again you'll find the higher quality, more affordable raw or pasteurized grass-fed organic dairy at your farmer's market.
Baking & Cooking Items – This is where most people overspend.  None of these items are truly necessary when eating Paleo.  Who doesn't want to bake their kids some treats once in awhile?  I use coconut milk all the time to create curries and add creaminess to soups.  Sometimes I make ice cream with it too.  I prefer coconut flour over almond flour so I already save money with that preference.  Buying dairy-free, soy-free chocolate chips, organic guar gum free coconut milk, bags of coconut flour, tapioca starch and arrowroot starch (to create my next ebook!) can be very expensive if I purchase these at my grocery store.  Instead I buy them online and save a ton of money.  My strategy was purchasing these on Amazon and having them shipped to a friend in the USA and then she shipped them to me!  Crazy but I actually saved money this way.  Now I'm switching my bootlegger strategy!  You can use Thrive Market to save money on these products.  They offer 25-50% cheaper prices off retail prices.
I met the owner of Thrive Market at the Wellness Media Mastermind last year.  It was fascinating to hear his vision and passion for his business.  Thrive Market is the first socially conscious online shopping club offering the world's best-selling natural and organic products at wholesale prices.
For less than $5 a month ($59.95 annually), members can shop 3,500 of the highest quality food, supplements, home, personal care, and beauty products from more than 400 of the best brands on the market, all delivered straight to your door always at 25-50% below retail prices.  They carry healthy brands like Weleda, Dr. Bronner's, Spectrum Naturals, Garden of Eatin', Bob's Red Mill (I use this brand for most of my Paleo flours), Nature's Path, Eden Foods, Annie's Homegrown, Earth's Best, Seventh Generation, Garden of Life, Jason Naturals and many more of the highest-quality premium brands and products to everyone at wholesale prices.
Plus Thrive Market donates one membership for every paid membership to a low-income American family, military family, or teacher (I really LOVED this part!). Thanks to them, thousands of Americans who otherwise wouldn't be able to afford healthy and natural products will have easy access to similarly or lower-priced alternatives to highly processed and artificial products found at traditional supermarkets.
Right now Thrive Market is giving away a really beautiful Paleo cookbook and free 1 month membership trial.  Get your cookbook and membership here.
Enjoy,
DISCLOSURE: Not intended for the treatment or prevention of disease, nor as a substitute for medical treatment, nor as an alternative to medical advice. Use of recommendations is at the choice and risk of the reader. Ditch the Wheat is a participant in the Amazon Services LLC Associates Program. As an Amazon Associate I earn from qualifying purchases. I may receive monetary compensation or other types of remuneration for my endorsement, recommendation, testimonial and/or link to any products or services from this blog. I only endorse products that believe in.