Welcome to Ditch the Wheat! Before you view the recipe I need to make sure you are aware of this. I hear it all the time... You're asking me to give up bread... Even my type 2 diabetic neighbour refuses to give up bread... There's so many reasons to ditch the bread: - gluten - GMO wheat - simple carbs (that cause weight gain) BUT it's so comforting to bite into a soft piece of bread smeared with butter. What if I told you there's bread you can eat that is Paleo and Keto friendly.
--> CLICK HERE <--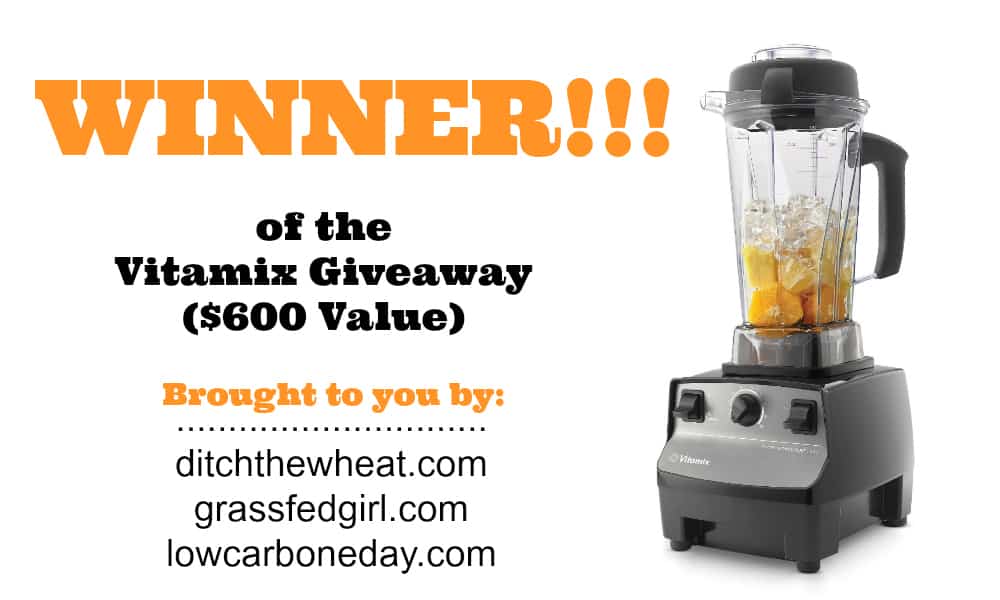 During February I ran my first VERY expensive giveaway!!!  Ohhh I wish I had won it…but one lucky person has.
I paid for this giveaway myself along with two of my blogger friends: Karen from Living Low Carb One Day at a Time and Caitlin from Grass Fed Girl.  I run these giveaways as my way to say thank you for being a fan of my site.  I choose them, based on your votes on Facebook, and I will have the prize shipped directly to your door if you live in the United States.  If you live outside of the United States you will receive an Amazon gift card of equivalent value to the cost of the item when purchased.
The winner is:
Winner's email: Erin Y (erj***@gmail.com)
If you won please email Karen at lowcarboneday @ gmail.com
The winner was chosen via random.org.  The winner will have 48 hours to contact (lowcarboneday at gmail dot com) with his/her full name, address, and phone number.  There is no purchase necessary to win.  This giveaway is open to everyone.  If the chosen winner is outside of the United States an Amazon Gift Card of equal value to the purchase price will be given to the winner.
PSssTTTT ~ I also want you to know about the KETO Bread Cookbook. You can eat bread that is Paleo and Keto friendly.
--> CLICK HERE <--
Thanks for entering!